China's Zhou Jiamin tames arrows and dragons
16.07.2019
Paralympic champion archer makes case for superhero status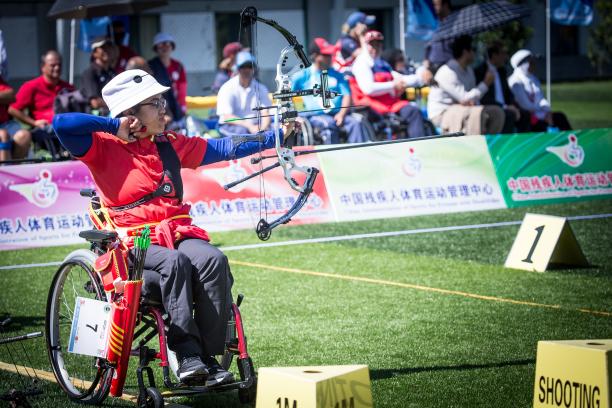 Zhou Jiamin justified her Paralympic title from Rio 2016 with her first individual World Championship gold the next year
© • Getty Images
By Lena Smirnova | For the IPC
China's Zhou Jiamin remains one of the best Para archers following her two gold medals at June's World Championships in 's-Hertogenbosch, Netherlands. But she still aspires for another role.
"I want to be the Mother of Dragons," said the double Paralympic champion in a nod to her favourite TV show Game of Thrones. "I could fly in the sky and that's amazing."
"I want to be the Mother of Dragons"
Drawing inspiration from watching all seasons of the popular television series and reading The Hunger Games book series, the spunky 29-year-old has turned her passion for archery into a full-time endeavor.
A hero is born
Zhou has come a long way to reach her triple world champion status.
Due to issues with her legs, Zhou was kept in hospital for a long time. She had her first surgery when she was eight months old, the second before she was five, and more surgeries to follow.
"It was really painful," Zhou said. "I still remember after the surgery my muscles would pull and the wound would be open again and it was really painful."
"When I was really young, some really not-so-nice people advised my mom to abandon me and my mom didn't do that," Zhou continued.
"My mom sacrificed for me because I am not a normal kid. I think my mom spent at least twice or three, four times more to take care of me than a normal kid."
Zhou's life took on a different trajectory when she discovered sports.
She began by playing sitting volleyball, and in 2013 she was recruited to the compound archery team. But Zhou had her growing pains.
"I liked it, but it was really exhausting," she said about arhcyer. "Sometimes in the summer, the temperature is super high and if you want to stick to it, I think you have to really like it. If you don't like it, in winter, in summer, you will feel very uncomfortable, very tired."
But Zhou stuck to training. Three years later, she made her Paralympic debut at Rio 2016 - the Games that would seal her status as China's next hero.
Lucky break
At her first Paralympic Games, Zhou felt the pressure to perform. But luck was on her side.
Zhou met a Chinese shooter on her way to the elevator on the first day of competition. Recalling that a shooting Para sport athlete won the first gold medal for China at Rio 2016, she said excitedly:
"'We were watching you at shooting. Congratulations! I know you got the first gold medal,' and [Dong Chao] said, 'It's me. Do you want to see the gold medal?' so I said, 'Can I touch it? Maybe I can get some luck?' And I was lucky."
A few days later, Zhou won her own gold medal, in the team compound open with Ai Xinliang. Her mother found out shortly after about Zhou's victory.
"She didn't believe at first," Zhou said. "The government officer called my mom and said, 'You have to go back to the house because the mayor will go to your home', and my mom was like, 'What happened?' - 'Your daughter got the gold medal.'"
A few days later Zhou landed another gold in the women's individual compound open.
Hero's path
Zhou is currently aiming for the Tokyo 2020 Paralympic Games, which could be her last.
After getting married last year, Zhou is thinking about having children. When she does, she plans to quit the sport.
"I know myself," Zhou said. "If I have kids, I really want to just stay with them."
Zhou will be defending two titles at Tokyo 2020 if she qualifies to the multi-sport event.
"I know I will be retired a few years later. It will not be much longer anymore, so I will really cherish the day I was competing," Zhou said.
Asked if she would consider dressing up as a superhero for competition, Zhou had some reservations.
"That would be super cool, but my coach would be really mad if I do this," Zhou said. "He would say, 'Are you serious?'"