Chen Yi Jun claims gold in men's individual sabre category A
06.09.2012
Romain Noble in shock early exit to Moez El Assine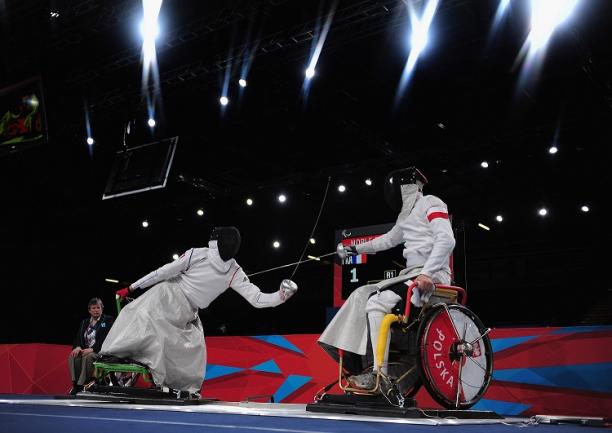 Romain Noble in action at the London 2012 Paralympic Games
© • Getty Images
"I am happy but I wanted to do better."
The sabre competition threw up some unlikely outcomes and set a great platform for the men's team competition on the final day.
World number 1 Romain Noble of France was left ruing missed medal opportunities as fellow Frenchman, Moez El Assine, dumped him out of the men's individual sabre category A.
Noble found it tough going from the off, with a tricky pool that included Beijing 2008 silver medalist Tian Jianquan and strong Hong Kong hope Cheong Meng Chai.
In the quarter-finals Chen Yi Jun dispatched Sergey Frolov 15-6 while his counterpart Jianquan took care of Nobel's victor El Assine and Chan Win Kin from Hong Kong overcame his team-mate Cheong Meng Chai.
Radowslaw Stanczuk of Poland beat Greece's Gerasimos Pylarinos, and with Noble out, there was very little the rest of the field could do to prevent the Chinese claiming the top prize.
Kin and Stanczuk faced the almost impossible task of the Jianquan and Jun respectively in their semi-final bouts. Both Chinese athletes raced to early leads and did not look back, setting up a repeat of the sabre final from four years ago.
Kin went on to take the bronze in a stylish performance that Stanczuk found hard to cope with. "I am happy but I wanted to do better," said Kin.
In the opening exchanges of the final, reigning world champion Jun looked unstoppable; turning defence into attack he took a swift 7-0 lead. But back came Jianquan, reeling Jun in to 7-6. The comeback was short-lived though, and Jun displayed great agility and fight to clinch the title of Paralympic champion 15-12.
The category B competition featured no such dominance.
Tam Chik Sum, silver medalist in the epee class, did not make it out of his pool, losing all four preliminary round matches.
Italian Alessio Sarri caused a big upset in the quarter-finals, catching potential medalist and world champion Anton Datsko off guard and pipping the Ukrainian 15-13. Grzegorz Pluta eased passed his Greek opponent, Emmanouil Bogdos, while Marat Yusupov beat Canadian Pierre Mainville.
The other quarter-final was an all-French affair, with gold medal holder Laurent Francois meeting tournament favourite Marc-Andre Cratere, and Cratere showed why he was the favourite beating a labored Francois 15-9.
With all of Cratere's main rivals out, the competition was his for the taking.
He brushed aside Yusupov 15-9 to set-up a gold medal bout with Poland's Pluta, whose semi-final with Sarri went right to the wire.
The under-dog, Sarri picked himself up to produce a performance of real ability and raw emotion to take the bronze.
Cratere looked composed, and after finishing fourth twice in Beijing he was desperate to achieve his gold medal goal, but Pluta had other ideas.
The Pol looked sharper and Cratere struggled to defend against Pluta's aggression. It was a massive upset and even though Cratere took home the silver, he will look back and think what might have been.