Charlotte Henshaw: Newest canoe contender
23.11.2018
Opens up on rivalry with British teammate Emma Wiggs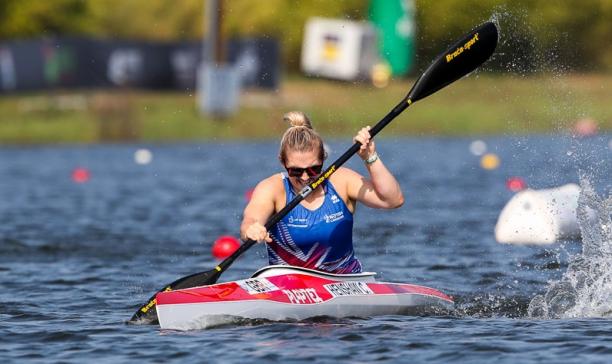 Charlotte Henshaw emerged as a new talent to watch after winning the European KL2 title in 2018
© • Zsuzsanna Vekassy
By Tim Norris | For the IPC
Great Britain's Charlotte Henshaw has excelled in two challenges this season: switching from swimming to Para canoe and upending her fellow Brit Emma Wiggs.
Having won a Paralympic silver and bronze medal in swimming at London 2012 and Rio 2016 respectively, Henshaw felt it was time to try something new.
"At the start of the 2016 season, I was invited for a morning of cross training with the British Para canoe team," Henshaw said. "That was the first time I'd ever been in a kayak and I loved it. After the Rio Games the experience stuck in my mind and when I was thinking of exploring some other sports, I got in touch with the team – the rest is history!"
Beating the best
Henshaw's first full season in 2017 showed her potential. She took the women's KL2 silver medal behind Wiggs in the European Championships. In 2018, she came in second twice to Wiggs, again at the Europeans and the World Cup in Szeged, Hungary.
Eventually the rivalry developed with teammate and current Paralympic and world champion, Wiggs.
"I have huge respect for Emma – she is a fantastic athlete, a real hard worker and I really enjoy racing together," Henshaw said." As the racing season progressed we knew we were both in good shape to get a GB gold and silver at the World Championships. That was the aim as a programme – to dominate the top two steps of the podium the whole season, which we managed to do."
August's World Championships in Portugal was a big step forward for Henshaw, beating Wiggs to gold in the KL2.
"I was pleased to win the title during my World Championships debut in the kayak event and that I'd managed to deliver a strong race under pressure," she said. "Emma and I had some really close races throughout the entire season and I was fortunate that on the day, I managed to deliver a strong performance."
Positive rivalry
The rivalry is helping both athletes progress.
"I definitely believe that having someone you race training with you allows you to continually push yourself beyond what you perceive your limits to be," Henshaw said, "Emma and I have absolutely managed to master a positive rivalry – the results we achieved throughout 2018 have demonstrated that and it puts us in a really strong position moving forward into the business end of the Paralympic cycle."
While Henshaw hopes to compete at Tokyo 2020, she is not looking too far ahead.
"I think it's difficult to look past that too much as it's so competitive to even make the team for a Paralympics in Para canoe," Henshaw said. "So my main focus is to make sure we select as many boat slots as we can and get my name on the team sheet. Then I can start to visualise what I'd like Tokyo to be in terms of personal performance."