Canmore Mayor shoots blind ahead of World Cup
08.12.2013
Canmore, Canada, is gearing up for the world's top cross-country and biathlon skiers to kick of the season's World Cup there, with less than three months to go til the Sochi 2014 Paralympic Winter Games.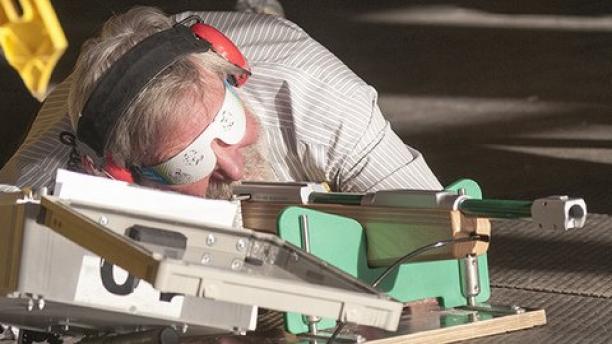 Canmore Mayor John Borrowman tried out shooting with a visual impairment ahead of the IPC Nordic Skiing World Cup there
© • IPC
Ahead of the 2013 IPC Nordic Skiing World Cup in Canmore, Canada, which begins on Monday (9 December), the town's mayor John Borrowman donned eye masks and head phones in order to reproduce the sensation of shooting a biathlon rifle without the aid of sight.
Local para-Nordic athlete Sandy LeCour organised the visually impaired biathlon challenge – attended by school children and local media - to bring attention to the six IPC Nordic Skiing World Cup events taking place in Canmore.
The rifle is laser-guided and the head phones tell the shooter when they are nearing the target. Given all the missed shots, the participants soon realised the dedication and skill required to be a biathlete with a visual impairment.
The 2013 IPC Nordic Skiing World Cup opens on Monday (9 December) at 9:30 am (local time).
Daily highlights will be available on the IPC YouTube channel and photos will be uploaded to the IPC Flickr page.