Canadian Para Swimming Stars Deliver at Paralympic Trials
29.03.2012
Huot and Mortimer swim to their first victories in the Canadian Paralympic Swimming trials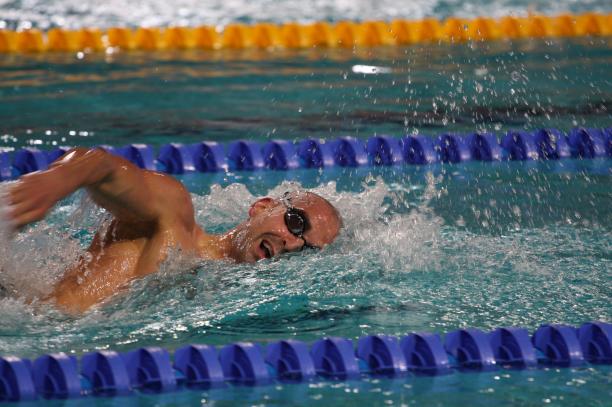 Benoit Huot at the 2010 IPC Swimming World Championships
© • IPC
By IPC
"It's a great way to start my week with my best events still ahead. "
Benoit Huot of Montreal and Summer Mortimer of Newmarket, showed why they are two of Canada's biggest stars in Paralympic Swimming on Wednesday (28 March) with victories at the Paralympic trials in Montreal, presented by RBC.
In the men's 100m backstroke, Huot clocked 1:01.53 to finish ahead of Adam Rahier of Port Moody, B.C., and Donovan Tildesley of Vancouver. Huot is a six-time Paralympic champion vying for a spot in his fourth Games.
"I was two-tenths off my best time so I wasn't far off,'' said Huot in an interview with Swimming Canada. "It's a great way to start my week with my best events still ahead. It augurs well for the rest of the competition."
In the women's 100m backstroke, Mortimer ranked first in 1:08.19. Aurélie Rivard of St-Jean-sur-Richelieu, Que., and Brianna Nelson of Cochrane, Alta., followed in second and third. The 100m backstroke, is one of five events in which Mortimer holds the world record.
"My feet were hurting a lot more than usual," said Mortimer, a four-time world champion at the 2010 IPC Swimming World Championships in Eindhoven. "But overall I'm satisfied. I'm part of the team and it was a good start. This is the biggest meet I've been to since the world championships and it's exciting."
Daniel Murphy of Sackville, N.S., and Maxime Olivier of Montreal won the men's and women's 50m Backstroke respectively.
"It's pretty good, I'm happy with the time," said Murphy who clocked 2:24.00 a personal best by two seconds.
Competition continues on Thursday (29 March) at the Olympic Park Sport Centre in Montreal.
For more information about Swimming, visit www.ipc-swimming.org.