Can Germany pull it together to make Sochi 2014?
23.10.2013
Germany look to get back on track after surprisingly losing their first two games at the IPC Ice Sledge Hockey Qualification Tournament.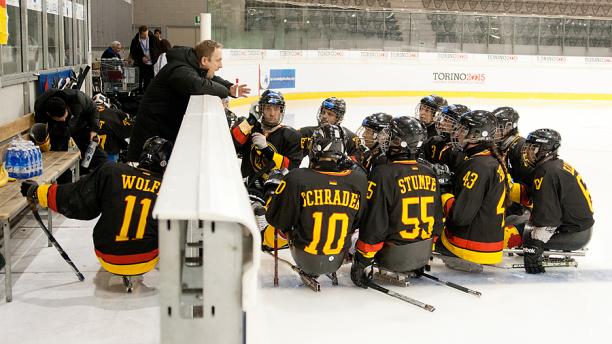 Germany's ice sledge hockey team takes a timeout during their first match at the IPC Ice Sledge Hockey Qualification Tournament in Torino, Italy.
© • Luc Percival
By IPC
"We hope to show everyone the hockey we can play and score more goals. We have to most likely win all three games now to hopefully be in Sochi next year."
With an increased level of media attention this month, and pressure riding on them after missing out on the Vancouver 2010 Paralympic Winter Games, Germany entered this week's IPC Ice Sledge Hockey Qualification Tournament with high expectations to advance to Sochi 2014.
They have the potential to receive extra hype on the road to Sochi 2014, considering Germany's able-bodied team failed to qualify for the Olympics for the first time in decades.
But two losses in the sledge hockey team's first two games in Torino and four injuries early in the week have dampened their Paralympic hopes.
Germany lost to a Swedish squad they expected to beat on Monday (21 October) by a score of 2-1, and then fell to South Korea on Tuesday (22 October), 4-1.
"I think the first game we were too nervous and made some mistakes, and the Swedish guys played much better than we though they would," German captain Frank Rennhack said.
"Then, South Korea had very fast players, and we were not able to stop them."
"Right now, we have to relax and get these two losses out of our mind."
Rennhack and Bernhard Hering are the only two Germans to have scored in Torino thus far, and with fellow forward Jorg Wedde being carted off the ice due to injury against South Korea, coaches are looking for others to step up on Germany's front line.
"We hope to show everyone the hockey we can play and score more goals," Rennhack said. "We have to most likely win all three games now to hopefully be in Sochi next year."
"I think some of us will retire from the team after Sochi, so it's very important to us."