Can Ams conclude with series of Americas records
23.03.2015
US swimmers take their total regional record haul to 10 at the Toronto Pan Am Sports Centre.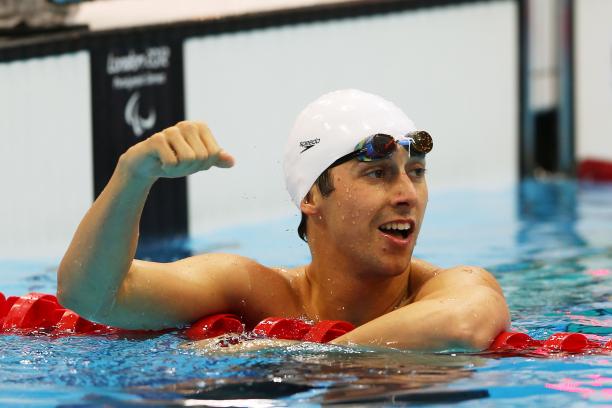 Tucker Dupree the United States celebrates after winning the silver after competing in the Men's 100m Backstroke - S12 Finalon day 7 of the London 2012 Paralympic Games
© • Getty Images
By US Paralympics and Swimming Canada
A series of US swimmers wrote their names into the record books at the 2015 Speedo Can Am Para-Swimming Championships over the weekend of 21-22 March, earning Americas records in the pool that will host the 2015 Parapan American Games in Toronto, Canada.
The 100m backstroke S8 record for Robert Griswold on Sunday (22 March) was his second Americas record of the event, having also taken honours in the 200m individual medley SM8 (2:28.07) on Saturday (21 March).
"It just validates that what I'm doing in training is paying off," Griswold said. "If I have the honour of representing Team USA by being selected for Worlds, it'll be such a good stepping stone. I felt like as a team - despite having the stress of making different selections - we carried the momentum from Pan Pacs [Pan Pacific Para-Swimming Championships] and supported each other well. [This came] all the way from people who have been on the Paralympic podium five, ten or fifteen years to those just starting out."
Kayla Wheeler earned her record in the 100m freestyle S2 (2:46.86) on Saturday in addition to her Americas record in the 200m freestyle S2 from Friday.
Twenty-three-year-old Michelle Konkoly broke two records in as many days in the 50m freestyle S9 (29.41) and 100m freestyle S9 (1:03.32).
Paralympian Dalton Herendeen is just 0.1 seconds off of third place in the world rankings after swimming a regional record time of 1:14.70 in the men's 100m breaststroke SB8 on Saturday.
"It was extremely satisfactory," Herendeen said. "I struggled a bit this morning so to get that time and look up to that [on the scoreboard was great]. I honestly didn't think I was going that fast. I thought it was about 1:15 high/1:16 low so when I saw that time, it was quite remarkable."
Tucker Dupree, a two-time Paralympian, clocked in at 24.20 seconds in the heats of the 50m freestyle S12 on Saturday to take the US haul of Americas records over the three day event to 10.
Wheeler was awarded the swim of the meet for her victory in the 50m butterfly S2. Teammate Roy Perkins took the male swim of the meet with his win in the 50m butterfly S5.
Canadian swimmers also put on a strong showing ahead of Toronto 2015 and the 2015 IPC Swimming World Championships in Glasgow, Great Britain, which take place from 13-19 July.
The meet acted as their selection for both competitions and nine-time Paralympic gold medallist and defending world champion Benoit Huot showed that he is the man to beat in the 200m individual medley S10 on Saturday.
Despite not being impressed with his performance, Huot (2:13.99) knows exactly where he needs to improve.
"That's the great thing about sports, we can learn every day even though I've been doing this for 20 years," said Huot.
"The way I felt today I wasn't expecting a best time but I thought I was going to be much faster. I'm going to learn from it. We are going to take it and put it in the bag, fix it and make sure we swim faster this summer."
Huot is also looking forward to another chance to compete at home in a major international competition at Toronto 2015 from 7-15 August.
"It's one of the reasons I am still competing, to be able to race in front of friends and family," he said.
Huot's compatriot Aurelie Rivard surprised herself by winning the women's 200m individual medley S10 in 2:37.60 on Saturday.
"I haven't gone that fast since the Commonwealth Games," said Rivard, who also won the S10 50m freestyle S10 in 28.36 seconds.
"It's over my expectations. I'm in the mood of the swim meet. I was really motivated and excited to race. I was not so nervous."
Adam Purdy, the 34-year-old who has returned to the sport with the goal of competing at Toronto 2015, won the 50m butterfly S6 in 38.85 seconds on Saturday and the 100m backstroke S6 in 1:22.10 on Sunday.
Canada's Nathan Stein won his signature race, the 50m freestyle S10 in 24.39 seconds.
"That's what we wanted to do," he said. "We implemented a game plan. I tried to stretch it out for the first 10 metres and then laid the hammer down.
"This is my swim. I live for this swim. It's so much fun because there is so little time to really put your best foot forward. You just try to get to the way as fast as possible."
Canada is set to announce its team for Toronto 2015 on Monday (23 March).
The US World Championships team will be announced by 30 March and 6 April for the Parapan American Games.
Eleven countries and more than 200 athletes competed at the Can Ams including the USA, Canada, Colombia, Iceland, Costa Rica, India, Japan, South Korea, Trinidad and Tobago, the Netherlands and Mexico.
Tickets for Glasgow 2015 are now on sale whilst tickets for Toronto 2015 go on sale on Monday (23 March)
All records are subject to ratification by IPC Swimming.