Cali 2019: Athletes target Parapan qualification
06.04.2019
Shooters from 10 countries to fight for Lima 2019 quotas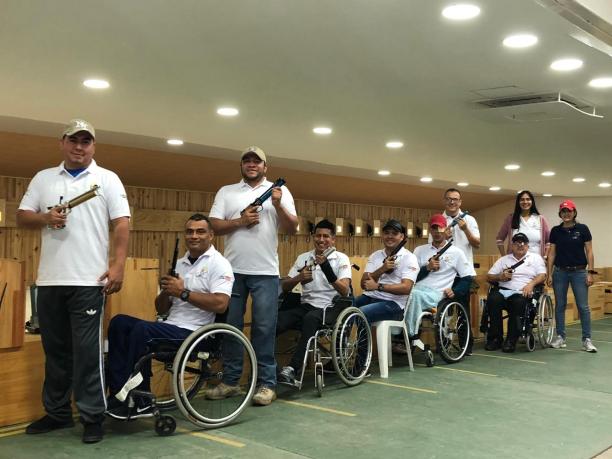 Para shooters from 10 countries are taking part in the Cali Open
© • Colombian Paralympic Committee
By World Shooting Para Sport
Athletes from 10 Americas countries will compete in the Shooting Para Sport National Open in Cali from Saturday, hoping to qualify for the Lima 2019 Parapan American Games.
A total of 38 local athletes will participate, as well as 18 from Argentina, Brazil, Cuba, Mexico, Peru, Puerto Rico, Uruguay, USA and Venezuela.
Colombia are hopeful of celebrating gold through Maria Teresa Restrepo (SH1), Cesar Duran (SH2), Deiber Arredondo (SH1) and Ignacio Merchan (SH1).
Restrepo is one of her country's most experienced athletes; she won the R6 (mixed 50m rifle prone SH1) at last year's edition of the Cali Open. Duran is also a top contender, having claimed two silvers at this event in 2018.
Mexico have launched a new shooting Para sport training programme and seek to show their improvement in Cali. They will have four SH1 athletes: Dulce Licona, Joaquin Palma, Jose Villarreal and Mario Cordova.
Argentina's Elba Acuna (SH1) will compete in her second event ever after taking part in the 2018 Cali Open.
It is also a return to competition for Uruguay, who last participated in a shooting Para sport event back in 2015. Carmelo Milan Facciolo will be the country's sole athlete.
Cuba and USA will have three representatives, Brazil and Venezuela two, and Peru and Puerto Rico one each.
Shooting Para sport will make its Parapan American debut at Lima 2019, which takes place from 23 August - 1 September, with 1,850 athletes competing across 17 sports.