British Paralympic Association celebrates 25 years
19.12.2014
One of the IPC's first NPCs also awarded a lifetime achievement award to Caz Walton.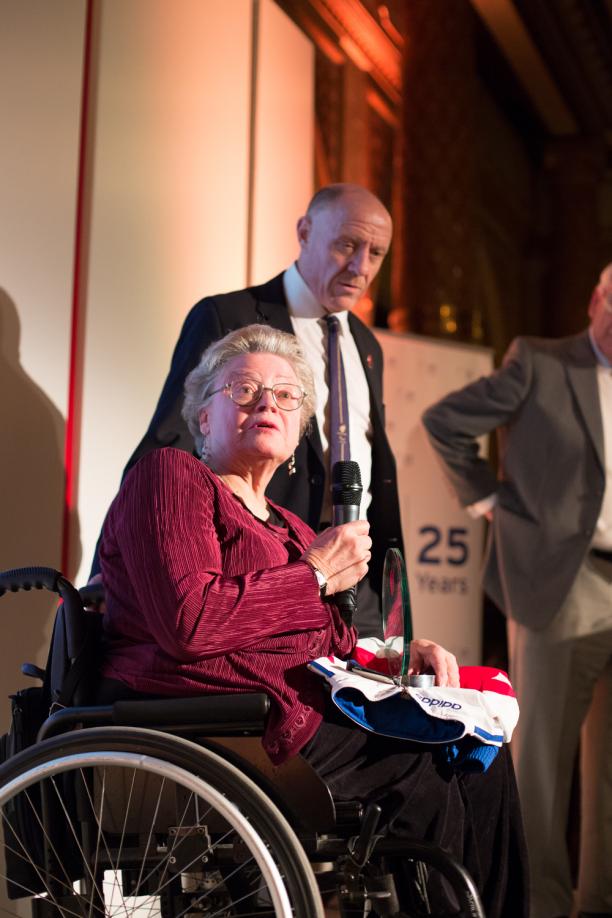 Caz Walton receiving her lifetime achievement award at the BPA's 25th anniversary event.
© • BPA
By British Paralympic Association
The British Paralympic Association (BPA) celebrated its 25th anniversary last week (11 December) with an event that was attended by many of those involved in the organisation over the last quarter of a century. There was also a lifetime achievement award for their longest serving employee.
Amongst the 200 guests at the BPA reception to mark the anniversary was Rt Hon Helen Grant MP; Rt Hon Gerry Sutcliffe MP; Xavier Gonzalez, Chief Executive of the International Paralympic Committee; Rod Carr and Nick Bitel, Chairmen of UK Sport and Sport England respectively; Liz Nichol; and Paralympian Lord Chris Holmes, formerly of the London 2012 Organising Committee and a BPA Patron.
The evening included a short period of speeches, providing guests and those involved in the Paralympic Movement in the UK with an opportunity to reflect on the BPA's 25 years.
BPA Chief Executive Tim Hollingsworth said: "I am a newcomer compared to many, for whom the past quarter century of commitment to the Paralympics has resulted in much of the substantial change and extraordinary opportunity we see today.
"London 2012 provided an incredible boost to our ambition, and has led to the introduction of additional activity such as National Paralympic Day and SportsFest, which aim to use the inspirational power of athletes to create opportunities for disabled people to get into sport, and to challenge perceptions of disability in our society.
"That focus is relentless and the momentum from London provides a great platform for the next quarter century as we seek to play our part in the establishment of the Paralympic movement as a truly global force."
At the anniversary event, the BPA presented a lifetime achievement award to Caz Walton, their longest serving employee.
Walton has been involved in every Paralympic Games since 1964 and won 10 gold medals for Great Britain during her time as an athlete.
She was placed on secondment to the BPA in 1989 by BT, the BPA's founding partner. Since then, Caz has gone on to play a key role in the development of the BPA, bringing her experience as an athlete to the fore to ensure that the BPA continues to work as an athlete-focussed organisation.
During her time at the BPA, Caz has retained her involvement with wheelchair fencing and assumed the role of Team Manager for the fencing team in 1996, 2000 and 2008. She currently holds the position of Athlete Services Officer and has also for some time played a really important role in advising on classification for the BPA.
Best known as a fencer, Caz has also won Paralympic medals in athletics, wheelchair basketball, swimming and table tennis across eight Games appearances, until her final Games at Barcelona 1992.
She has won a total of 17 Paralympic medals, 10 of them gold, although a mis-calculation in the scoring of the Pentathlon in Tel Aviv '68 prevented Caz from securing the 11th career gold medal that would have put her alongside Dame Tanni Grey-Thompson and Dame Sarah Storey.
Caz was made an OBE for her services to Disability Sport in the 2010 Queen's Birthday Honours.
The BPA formed in 1989, to become one of the first National Paralympic Committees to join the then-newly created International Paralympic Committee (IPC).