British para-rowing coxed four set world best time
22.06.2015
The reigning world champions set a new world best time, twice, en-route to gold in the World Cup in Varese, Italy.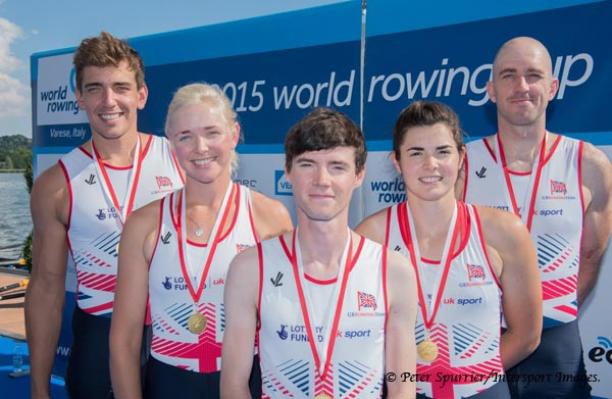 James Fox, Pamela Relph, cox Oliver James, Grace Clough and Dan Brown.
© • Peter Spurrier/Intersport Images
By Fran Brown | For the IPC
Twice, over two days, Great Britain lowered the world best time in the para-rowing mixed coxed four category, making a statement in the first Para-Rowing World Cup segment of the year.
The world champion crew of Grace Clough, Dan Brown, Pamela Relph, James Fox and cox Oliver James won by a stunning 3:13.76 on Saturday (20 June), lowering the world best time they set in Thursday's (18 June) heats of 3:15.47.
"We knew we were on for a good time as we have had a good training camp and a great block of training," Relph said. "We wanted to challenge ourselves here in the heat and with conditions the way they were (on Saturday) we knew it was on to break it again."
By the 300-metre mark, the British had distanced themselves a good length from host Italy, who captured the silver in 3:29.54. Italy were just ahead of France (3:30.88) at the half-way point and held them off until the end.
"We had one of our very best starts here and went down the course at 41-42," Italy's Luca Lunghi said. "But then we suffered a bit with the wind. We were a bit disappointed that we could race in front of the grandstand in our home crowd."
Meanwhile, Australia's Erik Horrie captured the arms and shoulders (AS) single sculls male event. The reigning world champion beat Russian's Alexey Chuvashev by 6.23 seconds. Britain's Tom Aggar tried to close the gap between second and third but finished for the bronze.
In the women's equivalent, Israel's Moran Samuel showed top form, convincingly beating Norway's world champion Brigit Skarstein. Brazilian Claudia Santos claimed bronze.
"The water was a bit bumpy," Samuel said. "Italy is amazing and Varese is amazing. This is just one small step in my journey to (Rio 2016)."
The trunk and arms (TA) mixed doubles event was the closest final with small margins separating the top three. Australia's 2014 World Champions Gavin Bellis and Kathryn Ross narrowly beat Brazil's Michel Gomez-Pessahana and Josiane Lima, with the French pair of Perle Bouge and Stephane Tardieu taking third.
"We only trained together for a short time, since 8 May," Lima said. "My partner lives in Rio and I live in South Brazil and had injuries so I had to spend six to seven months without training. This is the start of the training for Rio, and we are really grateful for everything we experienced here in Italy."
The Varese event will have provided many teams an opportunity to test their competition fitness ahead of the 2015 World Championships from 30 August – 6 September in Aiguebelette, France. The event doubles as the Paralympic Games qualifying regatta.
Visit World Rowing's website for complete results of the Para-Rowing World Cup in Varese.