Brazil recapture Copa America
11.06.2019
World´s top-ranked blind football team beat Argentina in the final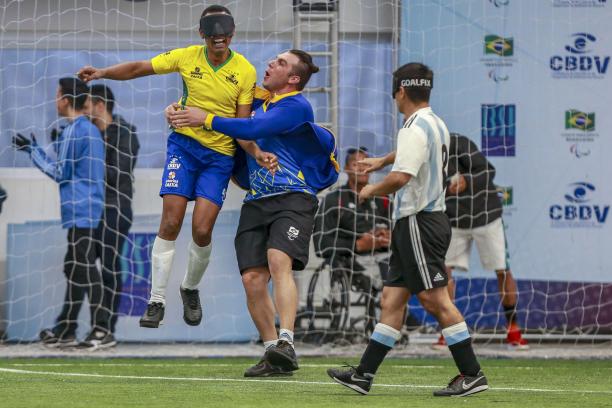 Brazil reclaimed the American Championships title with another victory against Argentina in the final
© • Comité Paralímpico Brasileiro
By CBDV and IBSA
The Brazilian blind football team gave the home crowd plenty to cheer about on Sunday, reclaiming the International Blind Sports Federation (IBSA) Blind Football American Championships title from rivals Argentina in Sao Paulo.
A 2-0 win secured Brazil's sixth Copa America to continue their storied record in the competition.
Raimundo Nonato was the star of the show, netting both goals in the first half. Nonato also led the tournament in scoring with nine goals overall.
Argentina came into the final with a clean sheet having won three matches against Chile, Peru and Colombia and two goal-less draws versus Brazil and Mexico.
Brazil, meanwhile, had wins against Colombia, Peru, Mexico and Chile, only conceding one goal against Chile to top the table in the round-robin stage.
On Sunday, Brazil drew first blood with a successful penalty after Ricardinho Alves was pulled down inside the area just eight minutes into the game. Nonato powered the ball into the left corner with his right foot after the ball hit the crossbar.
Five minutes later Nonato struck again, finishing a solo run from the Brazilian half in expert style.
Home fans "vibe" make a difference
"I always try to give my best, but I did not expect to be rewarded with these two goals in the final," Nonato said. "The fans' vibe was incredible, knowing that they are supporting and cheering gave an extra gas for the whole team on the field."
The final score was a repeat of the last time the two great rival teams met. In 2018 at the World Championships in Madrid, Spain, Brazil also triumphed with a 2-0 win.
"It is always great to play at home. The pressure is very great here, because we could not miss this title. But we did it and we did it in front of our friendly crowds," added Ricardinho.
Brazil knew they would face a tough test on Sunday. Argentina came into the American Championships as the defending champions.
In 2017, Argentina stopped Brazil from winning a third Copa America title in a row with a 2-1 win on penalties following a 2-2 draw.
With their place in the final, Argentina have secured themselves a spot at the Tokyo 2020 Paralympic Games. Brazil already gained their spot with their world title win at Madrid 2018.
Mexico capture bronze
Mexico beat Colombia 2-1 on penalties after a thrilling 0-0 draw following extra time. Mexico was able to turn the tables on Colombia who defeated them 3-0 in the bronze medal game at the 2017 American Championships. Chile finished the competition fifth followed by Peru.
The next major event for teams from the Americas will come at the 2019 Parapan American Games in Lima, Peru from 23 August. Brazil are unbeaten since the first time the sport was featured at the Games in Rio de Janeiro in 2007.