Bonn schools set to implement I'mPOSSIBLE
13.02.2019
Teacher training at the Bonn International School kicks off the programme in the Agitos Foundation home city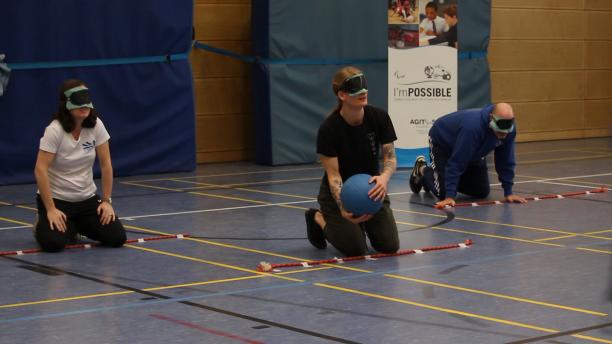 Teachers from the Bonn International School went through training to deliver the I'mPOSSIBLE programme
© • Agitos Foundation
By Agitos Foundation
As part of the celebrations to mark the 30th anniversary of the International Paralympic Committee, the Agitos Foundation is launching its I'mPOSSIBLE education programme in schools of its home city of Bonn, Germany.
This Tuesday 12 February teachers from the Bonn International School went through a training session on how to deliver the programme led by Miki Matheson, three-time Paralympic gold medalist and Programme Manager at the Nippon Foundation Paralympic Support Centre.
Miki's commitment has been fundamental to the implementation of I'mPOSSIBLE in Japan, the first country to pilot the programme earlier in 2017 in the build up to the Tokyo 2020 Paralympic Games. So far about 15 per cent of elementary schools of the country have used the programme.
Inclusion is something we have to deal with on an everyday basis, whether it's different skill abilities or just different personal experiences
"People tend to see what is impossible, what is incapable of when they see a person with a disability. However, the I'mPOSSIBLE programme is teaching children to see the possibilities and the potential of athletes with an impairment. That is a really huge perception change", says Miki.
Seven teachers took part in the training and will now reflect on how to apply the I'mPOSSIBLE units to the shcools' curriculum.
"Inclusion is something we have to deal with on an everyday basis, whether it's different skill abilities or just different personal experiences", says Daniela Klinge, Subject Leader for Physical and Health Education at the Bonn International School.
"I thought the training was fun, engaging and informative and it really provided us with tools, tangible things that we can actually apply within Bonn International School."
I'mPOSSIBLE was launched in 2017 aiming to promote social inclusion by raising awareness of the Paralympic Movement. It offers teaching resources, lesson plans, worksheets and inspirational videos to teachers and learners, seeking to change perceptions about people with an impairment and inspire the next generation through the Paralympic values.
The resources available through I'mPOSSIBLE consist of units with lesson plans featuring information on different Para sports and inspirational achievements of Para athletes that showcase their abilities. The programme was initially launched with units aimed at learners aged 6-12 years and, since December, also targets learners aged 13-18.
"In 2018 the programme has reached more than 138,000 students around the globe and the Agitos Foundation believes the IPC's 30th anniversary is a perfect occasion for engaging the community of our home city of Bonn with the Paralympic Movement", says Kaitlyn Mudge, Agitos Foundation Programme Manager.
Last 3 December, the United Nations Day of Persons with Disabilities, the Agitos Foundation announced 16 new agreements with National Paralympic Committees to implement the I'mPOSSIBLE education programme. As of February 2019, 19 NPCs have signed the agreement.
Together with Japan, Malawi and Kazakhstan, which have already successfully implemented the programme, now Austria, Brazil, Cameroon, Cape Verde, Colombia, Costa Rica, Georgia, Grenada, Hong Kong, Iran, Lithuania, Luxembourg, Mexico, Peru, Portugal, Sierra Leone, Singapore, South Korea and Zambia will also use I'mPOSSIBLE as a tool for social change.
In June, teachers of the Independent Bonn International School will also take part in a teacher training session to implement I'mPOSSIBLE. There are currently talks with other schools in the city to expand the reach of the programme.