Boccia battle at Hong Kong World Open
21.05.2019
Thailand continue to impress while world champs crash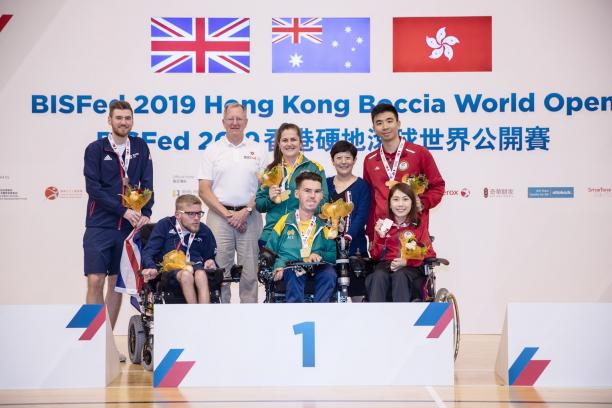 Daniel Michel won the BC3 individual gold at the Hong Kong Boccia World Open
© • BISFed
By IPC
Australian Paralympian Daniel Michel overcame a star-studded line-up to claim gold, while Thailand's athletes continued their excellence at the Hong Kong Boccia World Open last weekend.
Since making his Paralympic debut at Rio 2016, 23-year-old Michel has continued to show his progression in the BC3 category. The world No. 3 beat No. 2 ranked Jamie McCowan of Great Britain to advance to the final, where he held off another Brit in Patrick Wilson 4-2 to secure his first win of the year.
The Australian has picked up where he left off last year, where he won his first major medals with individual bronze and mixed team silver at the 2018 World Championships.
Home favourite and 2018 Asian Para Games bronze medallist Yuen Kei Ho rounded off the podium.
Thai throwdown
The BC2 event continues to be a back-and-forth battle between Thai teammates Worawut Saengampa and Watcharaphon Vongsa, with the latter securing sweet victory.
After disappointment from not reaching the Liverpool 2018 podium, Rio 2016 Paralympic champion Vongsa took down his teammate and 2018 world champion Saengampa 4-2. Worlds silver medallist Yan Zhiqiang from China did not surrender a point to win his bronze medal match.
Thailand found more success in the BC1, which witnessed an upset.
Witsanu Huadpradit stunned Great Britain's world No. 1 David Smith 5-2 in the quarter final, en route to his way into the gold medal bout. There, he had no trouble shutting down Malaysia's Chew Wei Lun 9-0. It was Huadpradit's second win of the year, following up from the Guangzhou Regional Open in March, and a solid showing since just missing the Worlds podium last August.
Natthawut Deemak added more to Thailand's stash with the bronze.
Back on top
Great Britain's Stephen McGuire remains in impressive form in 2019. The reigning European champion had a disappointing showing at his home Worlds last year but has showed renewed motivation in the BC4 elimination round. The Brit had a convincing 10-1 win over Colombia's Worlds runner-up Euclides Grisales in the quarter final, then went on to hold off Rio 2016 champion and heavy home favourite Yuk Wing Leung 4-1 to take the gold.
Croatia's Davor Komar finished in third place.
The host nation did win one for their spectators, capturing the pairs BC4 title. Japan won the pairs BC3, and Thailand collected more gold with the team BC1/BC2 victory.
Complete results from the Hong Kong Boccia World Open are available on BISFed's website.