Berlin 2018: Challenge of the champions
09.08.2018
The BBC's Ed Harry takes a closer look at the upcoming Euros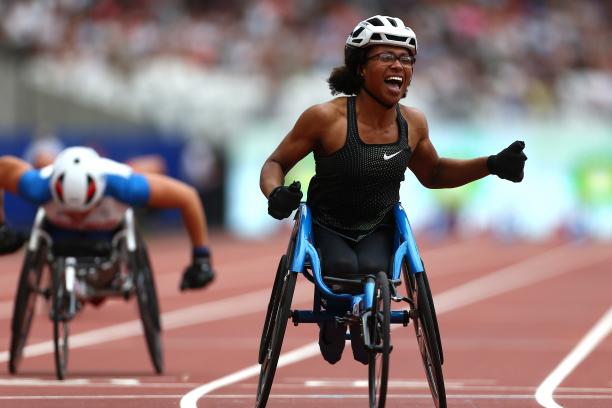 Kare Adenegan will go for European gold as the new 100m T34 world record holder
© • Getty Images
By Ed Harry | For the IPC
With the World Para Athletics European Championships just days away, BBC correspondent Ed Harry explains why the Berlin event is a mouthwatering prospect.
I am hugely excited about this month's World Para Athletics European Championships. I was even before the Anniversary Games, but what I saw at the London Stadium in late July was the perfect trailer for the blockbuster to come in Berlin.
Kare Adenegan's 16.80 second 100 metres in the T34 classification was incredible. It meant that, across two races at either end of the month, the teenager had taken almost a full second off her personal best.
After finishing three quarters of a second behind the 17-year-old in London, and seeing her world record broken, Hannah Cockcroft told BBC Sport, "I've finally got competition and this is what I have been looking forward to for the last few years." A timely and very clear reminder from the multiple World and Paralympic champion that it's not necessarily going to be all about Adenegan from here on in.
Whitehead's winning instinct
Great champions have a habit of responding to a fresh challenge.
The last World Para Athletics European Championships I covered was in Swansea in 2014. In South Wales I witnessed that rarest of things, a defeat for Richard Whitehead in what was then the 200m T42.
After losing to Anton Prokohov in the wet, the Briton said all of the right things, "sometimes you don't have the conditions you want ... but that is not an excuse". Watching and listening from the stands, for me it was about how he conducted himself in defeat. In his body language and in his tone, the subtext I received loud and clear was 'I don't like this feeling and this won't be happening to me again'. Golds at Rio 2016 and London 2017 are testament to his ability not just to bounce back, but to dominate once more.
In Berlin, there's another European title for Whitehead to fight for and, speaking as a fellow 42-year-old, we need to cherish these stars while we still have them.
One of Whitehead's great rivals down the years, Heinrich Popow, is bowing out in Berlin in front of a home crowd. The German sprinter and long jumper has, from our earliest interviews with him on the BBC, been 100 per cent clear about what being an elite athlete means in terms of training and dedication to your craft. Popow's attitude has always been that, for Para sport to be taken seriously, the athletes themselves have to take it seriously, to ensure the public is always watching the best against the best.
Let's enjoy Popow one last time in Berlin, where I also hope to have the chance to discuss Ntando Mahlangu with Whitehead. That, for me, was the other stand-out race on Anniversary Games weekend in July. The South African's victory over Whitehead, overhauling him late-on in the finishing straight, had the hallmarks of a changing of the guard. Like Kare Adenegan, he's another 17-year-old who defeated his event's dominant force. There's likely to be some gold in the Pretoria high school student's collection soon to go with the silvers he already has. But this column isn't going to start retiring people who shouldn't be going anywhere just yet! I'm hoping for more Mahlangu versus Whitehead duels because sport is nothing without rivalries.
Mahlangu's next opportunity to race at a major Championship should come in Dubai at the end of 2019.
Clifford's chance
Another athlete focussing on those same World Para Athletics Championships is Australia's Jaryd Clifford who has good reason to target next September's IAAF Worlds in Doha as well.
I was in Tampere, Finland to witness first-hand Clifford run the 1,500m at the IAAF World Under 20s. He didn't advance from his heat but, in the track event that can be the most brutal of them all, he appeared right at home. Like fellow vision impaired athlete Jason Smyth once did, Clifford has been able to make that crossover to IAAF competition. But Smyth is a sprinter, they stay in their lanes. In the 1,500m, the elbows can fly, you get tripped or clipped ... but the Australian, tracking a friend, navigated the pack instinctively.
He made the hardest bit appear easy, it was only afterwards amid the unfamiliar cable runs and barriers of the trackside interview area, that he needed his stick to help him walk from one camera crew to the next. Everyone wanted to speak to him. "I want to show people the fearless grit of the Paralympian" he'd said on the eve of the race. Believe me, he did.