Australia's Freney claims 6th gold
04.09.2012
Jacqueline Freney won gold in the 50m freestyle S7, her sixth top finish of the Games.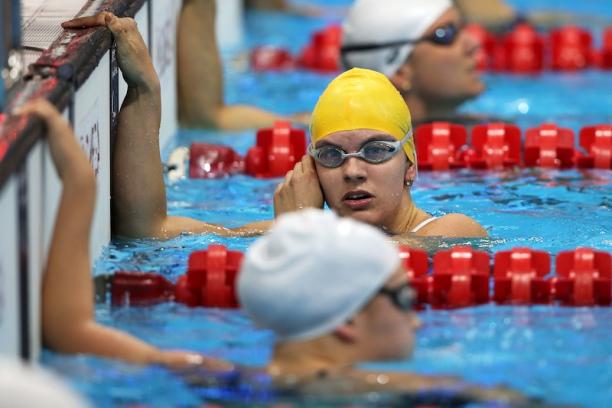 Jacqueline Freney of Australia.
© • Getty
"It's a bit of a shock actually. I was hoping for at least one medal, but six is unbelievable."
Jacqueline Freney became the most successful athlete at the London 2012 Paralympic Games thus far, as she won her sixth gold medal in the 50m freestyle S7 final on the sixth day of action in the pool.
Before London, Freney had won three bronze medals in Beijing four years ago, but in what has been an astonishing few days for the 20-year-old, she has won herself a trophy cabinet full of gold.
"I'm not a sprinter, but I'm so happy to have another medal under my belt," Freney said. "It's a bit of a shock actually. I was hoping for at least one medal, but six is unbelievable."
"My dad just said, 'Yes, good luck and hope for the best and whatever happens on the day.' I have a rest day tomorrow so I can recover and I am really looking forward to the 400 (metres freestyle). It should be a good race. I am going to go for a world record in the 400."
Belarus' Ihar Boki is another swimming getting used to the peak of the podium as the 18-year-old won his fourth gold medal, fifth in total, of the games. Making his Paralympic debut, Boki made it a fantastic four golds by winning the 400m freestyle S13 in a world record time of 3:58.78 and incredibly, he still has two events remaining.
Also in fine form was swimming legend Natalie du Toit of South Africa, as she pipped Great Britain's Stephanie Millward to win the 400m freestyle S9. The gold was du Toit's 12th in the Paralympics and second in London and she wanted to dedicate the win to someone special.
"That race was for Cathy Doyle," she said. "She was our Central Gauteng Aquatics president. She passed away a few months ago. I just want to dedicate this medal to her and her family. Thank you to them.
"She was at the 2010 World Championships on the side of the pool. Sometimes I try and picture her sitting on the chair. That was the whole idea for the 400m freestyle, to swim that for her."
Meanwhile, Brazilian Daniel Dias has become a fan favourite in the pool, and his win in the 100m breaststroke SB4 secured his third gold medal in London. Dias wiped over three seconds off his world record time which was set during the morning session.
Russian Oxana Savchenko and Ukranian Natalia Prologaieva also broke their respective world records en route to winning their third golds of the games in the 100m freestyle S12 and 100m breaststroke SB4.
American Justin Zook defeated favourite Andre Brasil of Brazil in the 100m backstroke S10 to notch the gold, while his American teammate Lantz Lamback won the 50m freestyle S7 gold.
Qing Xu of China picked up his second gold medal in two days as he set a world-record time in the men's 50m freestyle S6, defending his Beijing title along the way.
After her performance on Day 4, Great Britain's Ellie Simmonds came into the 50m freestyle S6 knowing a podium place would be a tough ask. Going up against Victoria Arlen and the Mirjam de Koning-Peper, the 17-year-old double gold medallist finished with bronze as the Dutch 50m ace won gold and American Arlen secured silver.
With Simmonds winning bronze, Heather Frederiksen provided the home crowd with the national anthem for the evening. The British swimmer defended the title she won in Beijing while USA's Jessica Long won silver, her fourth medal in five events.
Also collecting their second gold medals in London were Australian Brendan Hall in the men's 400m freestyle S9, Maksym Veraksa in the men's 100m freestyle S12 and Canada's Summer Ashley Mortimer in the 100m backstroke S10.