Athlete representation as focus of pilot workshop
26.09.2018
Ecuador hosts three-day workshop with representatives from eight countries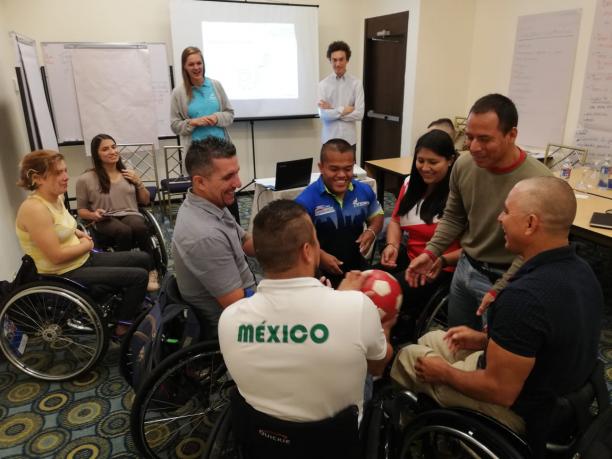 Athletes from eight countries at the Agitos Foundation-APC workshop in Ecuador
© • Agitos Foundation
By Agitos Foundation
The importance of athlete representation on a national and regional perspective was the focus of the first Americas athlete workshop held in Guayaquil, Ecuador, by the Agitos Foundation in close cooperation with the Americas Paralympic Committee (APC).
Eight Para athletes from Argentina, Chile, Colombia, Ecuador, El Salvador, Mexico, Nicaragua and Peru took part in the three-day workshop (14 to 16 September).
In Ecuador, the Para athletes learned about athlete representation in the Paralympic Movement, including case studies of different models, and discussed effective ways of communication.
"I understood that [the Paralympic Movement] is not only about competing"
The participants also critically analysed the current situation of athlete representation in their countries and finally developed action plans to be applied by each athlete once they return to their home countries.
"[I am] very grateful for this opportunity of getting to know such important things about the Paralympic Movement. Above all, I understood that it is not only about competing," said Para badminton player Pilar Jauregui from Peru.
Workshop to be expanded to more regions
Ileana Rodriguez, the regional athlete representative of the Americas and Proud Paralympian leader, co-facilitated the workshop and openly exchanged her knowledge and experience with the participants.
Monica Bascio, U.S. Paralympian and member of the IPC Athletes' Council supported the facilitation of the workshop and gave insights into the organisation of athletes within the USOC well as the role of the IPC Athletes' Council.
"I am happy to be part of it and value the personal interaction I had with the athletes of the region and bring their voice to the table at IPC Athletes' Council," Bascio said.
The successful pilot workshop pattern will be further developed in the near future.
In 2019, the workshop will be available under the Proud Paralympian umbrella in close collaboration with the IPC Athletes' Council to be expanded to different regions.