Alpine Worlds 2019: Top 7 moments
02.02.2019
World Championships in Kranjska Gora and Sella Nevea will be hard to forget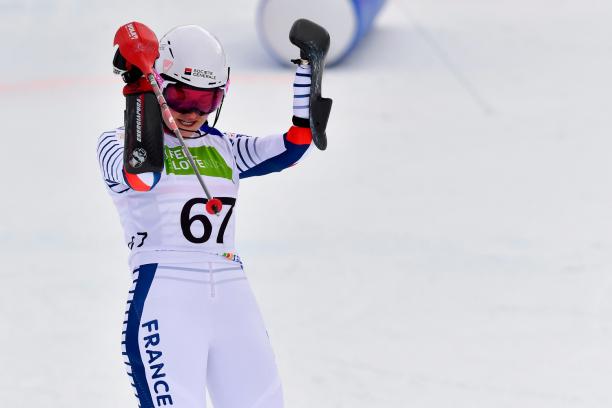 Milestone victories and acts of sportmanship at 2019 Worlds
© • Luc Percival
By By Lena Smirnova | For World Para Alpine Skiing
There were plenty of milestone victories and incredible acts of sportsmanship to make the 2019 World Para Alpine Skiing Championships memorable.
From two golden sweeps, to chicken hats and German fan clubs, and a true champion's tribute to her dad, these are the seven moments from Kranjska Gora and Sella Nevea that we will keep reliving over and over again.
1. Perfect sportsmanship
Australia's Melissa Perrine and her new guide Bobbi Kelly looked poised to make an upset in the women's vision impaired slalom when they overtook both the world and Paralympic champions in the discipline after the first run.
But metres from the finish line in the second run, Perrine got caught in the gate. As she stumbled, all her rivals, who had already completed their runs, started shouting encouraging words from the finish line.
The Australian skier hiked up to the gate, and finished the race with a bronze.
"It's the great thing about this circuit," Perrine said. "We're all friends off the circuit as well. We compete, but we're always cheering for each other too."
2. Tearful tribute
Just a month after her father passed away unexpectedly, Canada's Frederique Turgeon gave her "biggest fan" the most heartfelt tribute when she won a silver medal in his favourite event, slalom, at her first World Championships.
As Turgeon burst into tears at the finish line of the women's standing race, the event winner and her close friend Marie Bochet of France ran up to give her a hug.
"She was very happy for me and as we were hugging she said, 'I know your dad must be so proud right now'," Turgeon said. "I was crying."
3. German jubilation
A veritable fan club awash with German flags and posters erupted in cheers as Anna-Lena Forster crossed the finish line in women's sitting slalom to win her first world title.
It was a dramatic finish for the German skier who got tangled up in the final gates during the second run after winning the first. The shock on her face as she learned that she still managed to win and beat the defending champion was priceless.
"It was a little bit slippery and I didn't ride on my ski properly and then it was like, 'Oh no, I'm falling! What? There are only three gates to the finish line! What am I doing here?' Then I thought, 'Ok, go on, cross the finish line and then you can see what happens'," Forster said. "I thought I will not be on the podium and now I have the title. It's crazy."
4. Chicken hats for the win
France's Marie Bochet and Arthur Bauchet swept the gold medals in the men's and women's standing technical events with emotional celebrations at the finish line.
Bauchet credited his feat to the striking chicken hats his parents wore as they cheered enthusiastically for their champion son at every race.
"After the last gate, I hear them and it's just wow to hear them with the bell and see the chicken hat," Bauchet said. "I love the chicken hat. When they put the chicken hat on, I do medals."
5. Heroes with shovels
Official downhill training was cancelled for three consecutive days when Sella Nevea was hit with high winds followed by heavy snow. Still hopeful for a race, the team coaches continued to go on course in the early hours of the morning in an attempt to make it suitable for the start - slipping the course for hours and shovelling snow.
Thanks to their efforts, all the competitions took place and full sets of medals were given out.
"The whole circuit worked together and that's why we could finally do the races in Sella Nevea," said Andrea Rothfuss, Germany's three-time silver medallist in the women's standing class. "Everybody helped and that's the great thing. It's like a big family and everyone stands together."
6. Home for the win
Giacomo Bertagnolli and his guide Fabrizio Casal won gold medals in all three events they competed in on home soil in Sella Nevea, Italy. Their success on the slopes made them instant celebrities with the Italian female spectators who proved relentless in their requests for autographs and photos.
"I'm super happy," Bertagnolli said. "It's our course and we did well."
7. Grand Slam
Marie Bochet and the Netherland's Jeroen Kampschreur achieved the perfect record at the 2019 Worlds, winning five out of five races in the women's standing and men's sitting classes, respectively.
It was a career's third full sweep for Bochet, while for 19-year-old Kampschreur it was the first.
"I need to take a lot of time to realise this Grand Slam," Bochet said. "Every time it's different. Every new world title, it's the first one."
Kampschreur, who managed to defend three titles at the 2019 Worlds, now has two more to defend at the next World Championships in 2021.
"On one part that's really cool and on the other, I have everything to lose in the next World Champs so I really got to keep training so I can keep these titles," the Dutch skier said.