Alpine skiers race to last chance for glory
31.03.2019
Europa Cup finals to wrap up Para alpine season in Sweden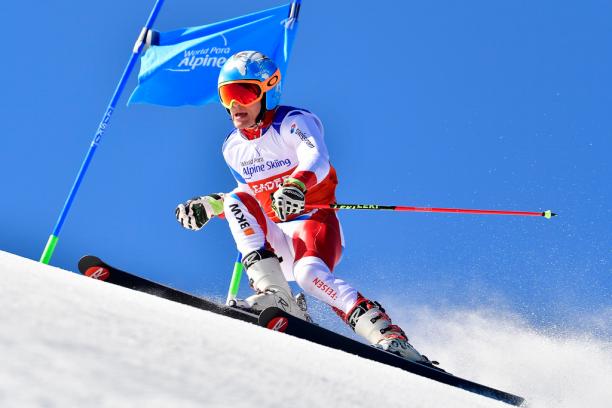 Theo Gmur headlines a star-studded field at the Europa Cup Finals
© • Luc Percival
By Lena Smirnova | For World Para Alpine Skiing
With the World Cup over, the Europa Cup finals in Klovsjo, Sweden, will be the last chance for Para alpine skiers to end the 2018-19 season on a high note.
The four-day competition takes place from 1-4 April and will consist of slalom, giant slalom, super-G and super-combined races.
Overall World Cup winner Jesper Pedersen and World Cup runner-up Theo Gmur will headline a lineup of World Championships and World Cup medallists.
All or nothing
Medal favourite in the men's standing class Theo Gmur came just short of his goal this season when he finished second to France's Arthur Bauchet for the overall World Cup title.
In Klovsjo, the Swiss skier will have a chance to grab a different kind of overall title, although not without another hard battle.
Currently tied for tenth place with 100 points, Gmur will need to win at least three of the four races to surpass Andorra's Roger Puig Davi who leads the overall ranking with 394 points. But with speed races back on the menu, the Swiss speed specialist will be all too eager to tackle this seemingly insurmountable challenge.
Also competing in the men's standing is Russia's Paralympic super-combined champion Alexey Bugaev, who will make his international return in Sweden.
There will be strong home support as well, with the class featuring the only Swedish skiers at the competition - Aron Lindstroem who just finished his career's best World Cup season with two medals, and 15-year-old Arvid Skoglund.
French fireworks
French vision impaired skiers Hyacinthe Deleplace and Thomas Civade were neck and neck across different disciplines after making their World Cup debuts this season. They will face off again on the Swedish slopes.
Deleplace emerged the better of the two at the World Cup thanks to his silver in the overall, but the points have evened out again ahead of the Europa Cup finals. Deleplace is higher up in the overall with 160 points to Civade's 105, but the latter can still catch up in the last four races.
Aside from each other, the French athletes will also have to be wary of Russia's Valerii Redkozubov. The Paralympic bronze medallist in slalom and super-combined carries years of racing experience and is sure to be a threat in Klovsjo.
Neutral no more
Switzerland's Bigna Schmidt could become the first skier to upset Marie Bochet's perfect overall streak in the women's standing this season. The French star won all races at the 2019 World Para Alpine Skiing Championships as well as the overall World Cup title.
She now leads the Europa Cup ranking with 500 points, but Schmidt is only 190 points behind and could take the overall title from Bochet if she puts in a solid performance in Sweden.
The women's standing races will also feature Russian teenager Varvara Voronchikhina, fresh from winning three golds at the national championships.
Champion's determination
Straight victories in the first five races at the Europa Cup have already guaranteed Dutch sit skier Jeroen Kampschreur the overall title this season, but his arch rival Jesper Pedersen is no less motivated because of that and can be expected to put in his best effort in Sweden.
The overall World Cup winner from Norway missed the first Europa Cup races because he was was recovering from a bacterial infection on his heart. As a result, he comes into the finals with no points and the overall title well out of reach.
But the super-combined and super-G titles are still up for grabs and Pedersen is in prime form to wrap up his sensational comeback year with a bang.
The Europa Cup finals kick off on Monday, with live results on the World Para Alpine Skiing website.