Agitos Foundation nominated for Ghana sport award
02.12.2014
The Agitos Foundation has been named as a nominee in the Best Disability Sports Contributor category for the Ghana Sports Excellence Awards 2014.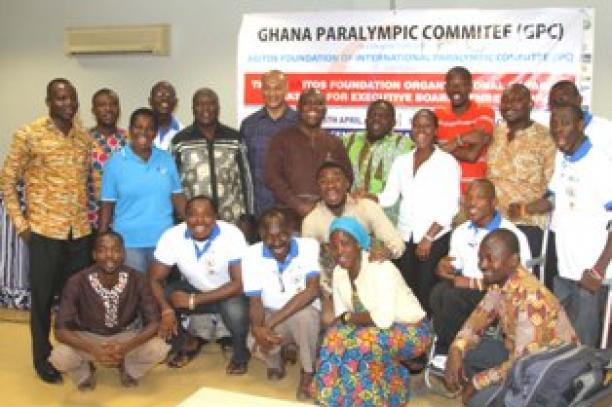 The second national Organisational Capacity Programme workshop was held in Ghana
© • Agitos
By Agitos
The development arm of the International Paralympic Committee (IPC), the Agitos Foundation, has been nominated in the Best Disability Sports Contributor category of the 2014 Ghana Sports Excellence Awards.
The awards honour a diverse range of contributions, focusing on exceptional sports icons and organisations that go above and beyond the call of duty.
Georg Schlachtenberger, Director of the Agitos Foundation, said "We are immensely excited and honoured to have been nominated for this prestigious award alongside some of the best para-sport organisations and figures in Ghana and internationally.
"We are very proud to be involved with growing grass-roots and high performance sport for people with impairments alongside the National Paralympic Committee and various other organisations.
"This nomination will help us to further raise awareness of para-sport not just to potential athletes but more partners."
The Agitos Foundation has provided support to a number of development initiatives in Ghana in 2014 through projects such as the Organisational Capacity (OCP) and Grant Support Programmes (GSP).
Funding was provided through the GSP for a national festival to raise awareness of para-sport and identify new athletes, whilst representatives of the National Paralympic Committee have been involved in workshops designed to improve the organisation and resources within developing NPCs.
In February, a member of the Ghanaian Paralympic Committee (GPC) travelled to Bonn, Germany, to receive training in governance, management, leadership and sport promotion through the OCP.
They returned to Ghana to deliver ongoing sessions which have resulted in the development and implementation of a vision, mission statement and organisational structure for the GPC and engagement with sports practitioners from across the 10 regions, with work set to continue until 2016.
The Ghana Sports Excellence Awards 2014 recognise athletes and organisations in 36 categories.
Other notable nominees include footballers Jerome Boateng and Danny Welbeck in the Best Male Diaspora Athlete category and track and field stars Martha Bissah and Mathilde Boateng for Best Female Athlete.
The Agitos Foundation has been nominated alongside the Right to Dream Academy and philanthropist Dan Arhin.
The date and location of the award ceremony will be announced by the organisers shortly.