52 British para-athletes benefit from extra funding
05.11.2014
British Athletics' World Class Performance Programme gives extra funding and support to athletes with medal potential on the road to the Rio 2016 Paralympics.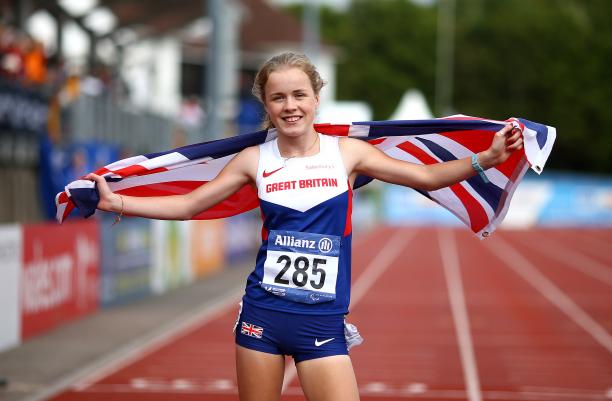 Maria Lyle of Great Britain celebrates after winning the women's 200m T35 final during the Swansea 2014 IPC Athletics European Championships.
© • Getty Images
By British Athletics
British Athletics has announced the para-athletes that will receive funding through its World Class Performance Programme (WCPP) for 2014-2015.
The athletes are selected on their potential to win medals in upcoming events, including the Rio 2016 Paralympic Games in Brazil.
The programme is split into two, with a total of 26 para-athletes on the Podium WCPP – those most likely to win medals - and a further 26 on the Podium Potential WCPP.
One of the most notable inclusions in the Podium WCPP is 14-year-old Maria Lyle, who holds the 200m T35 world record and won double gold at the 2014 IPC Athletics European Championships in Swansea, Great Britain, in August 2014.
Also included amongst the 26 are Paralympic and world 100m T44 champion Jonnie Peacock and two-time Paralympic and four-time world T34 champion Hannah Cockroft.
"Our World Class Performance Programme selections for 2014-15 once again reflect on the criteria of medal potential at the Olympic and Paralympic Games," said Neil Black, British Athletics Performance Director.
"Competition for places on the programme is extremely competitive and this year the selection panel faced tough performance decisions based on such stipulations in this funding cycle.
"Next year we are looking to build on the excellent foundations set in 2014 and I'm excited about how our athletes will fare on the global stage at the World Championships in Beijing and the IPC [Athletics] World Championships in Doha [Qatar]".
The most notable absentee from the list is six-time Paralympic champion David Weir, who has opted out of funding.
The Podium WCPP recipients are as follows:
Hollie Arnold, Graeme Ballard, Paul Blake, Jonathan Broom-Edwards, Mickey Bushell, Jo Butterfield, Libby Clegg, Hannah Cockroft, Aled Davies, David Devine, Kyron Duke, Dan Greaves, Sophie Hahn, Beverley Jones, Sophie Kamlish, Maria Lyle, Dean Miller, Stephen Miller, Mel Nicholls, Stephen Osborne, Jonnie Peacock, Josie Pearson, Gemma Prescott, Stef Reid, Richard Whitehead, Bethany Woodward.
The Podium Potential WCPP recipients are:
Jonathan Adams, Kare Adenegan, Joshua Bain, Samantha Bowen, Olivia Breen, Dan Bramall, Richard Chiassaro, Meggan Dawson-Farrell, Toby Gold, Jordan Howe, Abbie Hunnisett, Moatez Jomni, Jade Jones, Rhys Jones, Sammi Kinghorn, Erin McBride, Maxine Moore, Stephen Morris, Holly Neill, Georgina Oliver, Ben Rowlings, Will Smith, Laura Sugar, Isaac Towers, Kieran Tscherniawsky, Bradley Wigley.
For more information, visit the British Athletics website.