2018 in Review: Commonwealth Games powerlifting
17.12.2018
Nigeria's stunning performance and an emotional comeback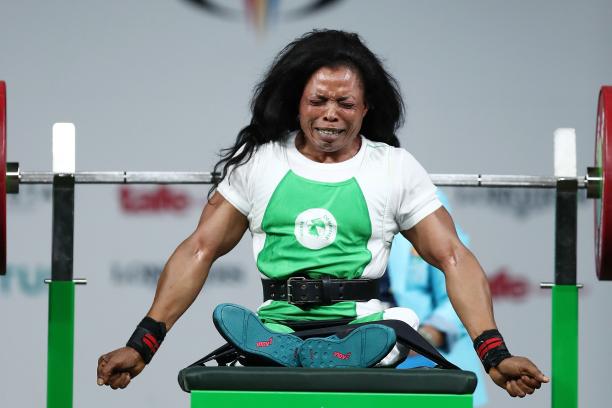 Esther Oyema led a Nigerian clean sweep of the Commonwealth Games powerlifting golds
© • Getty Images
By World Para Powerlifting
Nigerian powerlifters showed once again why they are among the world´s strongest as they swept all four events at the 2018 Commonwealth Games in Gold Coast, Australia.
Nigerian dominance
It was another successful event for the African country's athletes after they topped the sport's medals table at the Rio 2016 Paralympic Games and ended second at the Mexico City 2017 World Championships.
An AH formula was applied to the best successful lift of each athlete, providing a final point score which determined placing.
London 2012 gold medallist Esther Oyema came in first in the women's lightweight with 141.6 points. She was followed by compatriot and multiple-Paralympic champion Lucy Ejike (134.1 points). England's Zoe Newson (106.1) repeated her bronze medal from Rio 2016.
Paralympic champion Ndidi Nwosu captured the women's heavyweight title after scoring 110.4 points thanks to a 120kg lift. She finished ahead of England's Louise Sugden (82.9) and Kenya's Joyce Njuguna (89).
Addulazeez Ibrahim earned another medal for Nigeria in the men's heavyweight. The 2014 world champion scored 191.9 points. Malaysia's Yee Khie Jong (188.7) and Indian Sachin Chaudhary (181) completed the podium.
There was a Nigerian 1-2 in the men's lightweight through Paralympic and world champions Roland Ezuruike (224.3) and Paul Kehinde (219.9). Great Britain's Ali Jawad (182.7) collected bronze.
Jawad's emotional comeback
After a difficult 2017, when he had his longest Crohn's flare up since being diagnosed with the disease in 2009, the Brit made an emotional comeback at the Commonwealth Games.
"I am truly lost for words," the 2014 world champion expressed. "It was a miracle to even get here, but to come away with a medal is beyond everything I expected.
"Eighteen months battling Crohn's disease, thinking my career was over. Thank you to everyone that wished me support. It means the world to me.
"It was very disappointing not being able to compete in Mexico City [World Championships], however, it made me realise that if I was fully fit I could be very competitive.
"This gave me a lot of hope during the recovery process. Even though my absence at international competitions could be seen as a negative, the time off made me reassess how I tackled my health in the past.
"With the help of British Weightlifting staff we have implemented a plan to reduce the likelihood of another flare up."