2017 summer sport World Championships at a glance
03.04.2017
As we transition from the winter to summer sports season, here is a quick rundown on what to follow.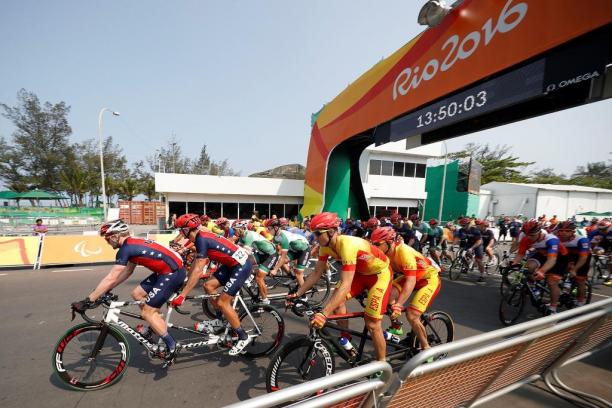 Cycling Road at the Rio 2016 Paralympic Games.
© • Wagner Meier for the IPC
By IPC
The busy winter sports season is thawing. All six sports have held World Championships earlier this year, with the World Para Ice Hockey Championships the last to take place from 11-20 April.
From then on, 10 summer sports will have their World Championships. Here is a rundown on what will be sizzling in 2017:
Para Table Tennis World Team Championships
When: 17-20 May
Where: Bratislava, Slovakia
Ones to watch: Ukraine's men's class 7 tandem of Maksym Nikolenko and Viktor Didukh
More information: www.ipttc.org
World Para Athletics Championships
When: 14-23 July
Where: London, Great Britain
Number of athletes, nations: 1,300 athletes from 90 countries
Ones to watch: Jonnie Peacock (GBR); Omara Durand (CUB)
More information: www.paralympic.org/london-2017
Para Canoe World Championships
When: 23-27 August
Where: Racice, Czech Republic
Ones to watch: Edina Muller (GER); Jakub Tokarz (POL)
More information: www.canoeicf.com/event/2017-icf-paracanoe-world-championships
UCI Para Cycling Road World Championships
When: 31 August – 3 September
Where: Pietermaritzburg, South Africa
Ones to watch: Jozef Metelka (SLO); Sarah Storey (GBR)
More information: www.uci.ch/para-cycling/
World Archery Para Championships
When: 12-17 September
Where: Beijing, China
Ones to watch: Jessica Stretton (GBR); Andre Shelby (USA)
More information: www.worldarchery.org
World Triathlon Grand Final
When: 15 September
Where: Rotterdam, Netherlands
Ones to watch: Martin Schulz (GER); Grace Norman (USA)
More infomration: rotterdam.triathlon.org
World Rowing Championships
When: 24 September - 1 October
Where: Sarasota-Bradenton, USA
Ones to watch: Birgit Skarstein (NOR); Roman Polianskyi (UKR)
More information: www.worldrowing.com/events/2017-world-rowing-championships/event-information
World Para Powerlifting Championships
When: 30 September – 6 October
Where: Mexico City
Number of athletes, nations: 360 powerlifters from 65 countries
Ones to watch: Siaman Rahman (IRI); Josephine Orji (NGR)
More information: www.paralympic.org/mexico-city-2017
World Para Swimming Championships
When: 30 September – 6 October
Where: Mexico City
Number of athletes, nations: 550 swimmers from more than 60 countries
Ones to watch: Daniel Dias (BRA); Sophie Pascoe (NZL)
More information: www.paralympic.org/mexico-city-2017
World Para Taekwondo Championships
When: 19 October
Where: London, Great Britain
Ones to watch: Mahdi Pourrahnamaahmad (IRI); Lisa Gjessing (SUI)
More information: www.worldtaekwondofederation.net
Para Dance Sport World Championships
When: 21-22 October
Where: Malle, Belgium
Ones to watch: Hsin-Yu Lin (TPE); Illona Slugovyna (UKR)
More information: www.worldparadancesport.com
Para Badminton World Championships
When: 21-26 November
Where: Ulsan, South Korea
Ones to watch: Karin Suter Erath (SUI); Bartlomiej Mroz (POL)
More information: www.bwfbadminton.com/