The 12 biggest upsets at London 2012
14.09.2012
Sport is never entirely predictable, and London 2012 certainly had its fair share of upsets.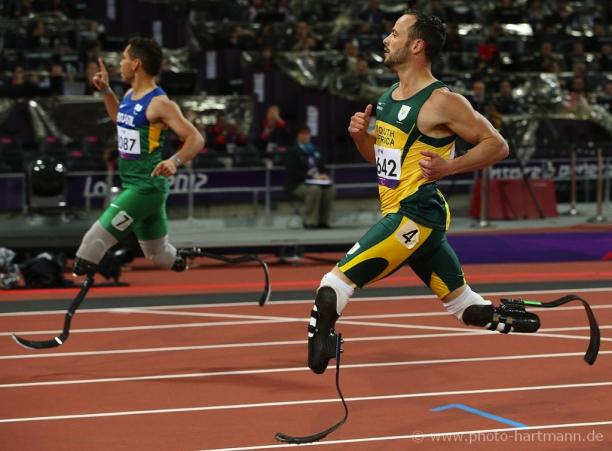 Brazilian Oliveira beat Oscar Pistorius in a thrilling finish.
© • Marcus Hartmann
By IPC
Take a look at what we think were London 2012's top 12 upsets.
1. Oliveira beating Pistorius
Ahead of the start of the men's 200m T44, South Africa's Oscar Pistorius received a rapturous ovation from the capacity crowd of 80,000. By the time he had overtaken America's Blake Leeper inside the first 50m and then exploded off the bend well ahead of the field, the race was going according to script.
But then Brazil's Alan Oliveira produced outstanding acceleration along the home stretch, passing Pistorius in the closing stages to record one of the biggest upsets in history in a time of 21.45.
2. Huang ends Aggar's five-year reign
Going into the race, British rower Tom Aggar was undefeated at international events since 2007, but he could not replicate that performance as the other competitors came out stronger. China's world-record holder Cheng Huang ended the championship reign of Aggar on the final rowing race day at Eton Dorney in the men's singles sculls ASM1x A final. Huang recorded a top time of 4:52.36, and Aggar did not even make the podium.
3. One goal is enough
A single goal was enough for Japan to take gold against world champions China in the finals of the women's goalball competition.
4. Goalball men play a whole new game
Finland thrashed Brazil in the men's goalball final, scoring eight goals, but neither had been expected to even make it to the finals. Favourites Lithuania and Sweden failed to medal.
5. "Grandpa" Murray knocked out of individual competition
Great Britain's Nigel Murray was forced to retire without an individual medal after being beaten in the boccia BC2 quarter-finals by China's Zhong Kai. Murray won bronze in the team event.
6. Soazo loses Paralympic title
The biggest shock in the judo competition perhaps came from the hotly tipped Naomi Soazo of Venezuela, who fell into the repechage after her first contest in the -63kg division. Soazo looked far stronger in her repechage and progressed to the bronze-medal match.
Soazo's bronze-medal contest looked to be going her way, getting a point on the board quickly with a first minute yuko, but out of nowhere her Brazilian opponent achieved ippon.
Daniele Bernardes Milan took the bronze medal, her first in the weight division, having won two bronze medals previously at Athens and Beijing in the -57kg division.
7. Canada beating USA in wheelchair rugby semis
Canada produced one of the most memorable wheelchair rugby performances ever to defeat arch-rival USA, 50-49, in the semi-finals. USA went on to win the bronze-medal game against Japan, and Canada claimed silver after losing to Australia in the finals.
8. Cundy's disqualification from C4-5 time trial
One of Great Britain's medal hopefuls, Jody Cundy, reacted emotionally after being disqualified in the C4-5 time trial. He encountered a problem at the start, skidding out of the gate and never getting going. The time trial title went to Spain's Alfonso Cabello, whose time of 1:05.95 also broke the C5 world record that had belonged to Great Britain's Jon-Allan Butterworth.
9. USA women miss out on wheelchair basketball medal
The Netherlands, cheered on by the vocal crowd, stunned the USA with a clinical and comprehensive 71-47 victory in the bronze-medal match.
10. Quadfather knocked out
Great Britain's Peter "the Quadfather" Norfolk's loss to No. 10 seeded Shraga Weinberg of Israel was the biggest upset of the wheelchair tennis quad singles competition. The favourite won the first set comfortably 6–3, but with 22 unforced errors in the second it was all downhill for the British former champion. Weinberg took the win by a score of 3–6, 7–5, 6–2.
11. Sarri catches Datsko out in fencing
Italian Alessio Sarri caused a big upset in the men's sabre category B quarter-finals in wheelchair fencing, catching potential medallist and world champion Anton Datsko off guard and defeating the Ukrainian, 15-13.
12. No triple-gold this time for Lee Pearson
For the first time ever, Great Britain's Lee Pearson left the Games without three gold medals. Instead he won one of each colour. Austria's Pepo Puch won gold in the Freestyle 1b with a score of 79.150 riding Fine Feeling. He was 5 points ahead of Finland's partially sighted rider Katja Karjalainen and Rosie with 74.250. Home favourite Pearson finished third overall with 74.200.