WHEELCHAIR BASKETBALL

Mariska Beijer
29 June 1991
LATEST TRIUMPHS:

2018 World Championships – Gold

2017 European Championships – Gold

Rio 2016 Paralympic Games – Bronze

2015 European Championships – Silver

2014 World Championships – Bronze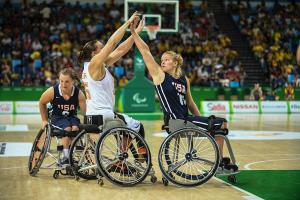 The Dutch women's team made history at the 2018 World Championships with their first major gold medal, and that was partly down to Mariska Beijer. A known presence from field-goal range and under the basket, the 4-point player has been one of Netherlands' prized weapons. She was named Most Valuable Player of the women's tournament.
The victory in Hamburg, Germany, established Netherlands as a heavy favourite for Paralympic gold at Tokyo 2020.
The team had those expectations at the last Games in Rio de Janeiro, Brazil. The Netherlands' gold medal hopes were unfortunately cut short when they lost to arch rivals Germany in a physical semi-final in Rio. Beijer – the top scorer at the 2015 European Championships – was limited to eight points in that game but hauled 13 rebounds. She led all scorers (21) in the bronze medal victory against a younger Great British team.
A second straight Paralympic bronze was not what Beijer had hoped for. But her veteran experience will be important as the Dutch make another push for gold at Tokyo 2020. She was also part of the Dutch team that won Paralympic and world bronze in 2012 and 2014, respectively.
At the European Championships level, Beijer has kept her team in podium contention. Having won European silver in 2009 and 2011, Beijer and her teammates finally topped the podium in 2013 beating defending champions Germany who were playing at home in Frankfurt. At the 2015 European Championships, Beijer averaged 23.6 points per game and was named on the tournament's All Star team. Despite her efforts, the Dutch lost their European crown to Germany. Again, the Dutch-German rivalry was renewed in the 2017 edition, with Beijer helping her team take revenge on Germany to win the gold medal.
Her hero is Michael Jordan.
Follow us on Facebook
Follow us on Twitter