PARA ALPINE SKIING

Marie Bochet
16 February 1994 Chambery, France
LATEST TRIUMPHS:

PyeongChang 2018 Paralympic Winter Games – Gold: downhill, super-G, giant slalom, slalom

2017-18 World Cup – Gold: overall

2017 World Para Alpine Skiing Championships: Gold - Downhill, super-G and super combined; Silver - giant slalom and slalom

2015 IPC Alpine Skiing World Championships: Gold - Downhill, super-G, super combined, slalom and giant slalom

Sochi 2014 Paralympic Winter Games: Gold - Giant slalom, downhill, super combined and super-G
Find out about the full career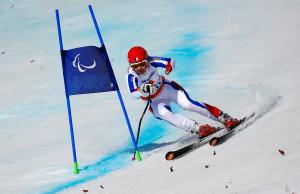 All eyes were on Marie Bochet ahead of the PyeongChang 2018 Paralympic Winter Games after she had won the 2017-18 overall World Cup title. The French alpine skier had the difficult task of repeating her outstanding performance from Sochi 2014, where she took four golds.
But Bochet seemed not to feel the pressure as she stormed to quadruple gold once again on South Korean soil, winning the women´s downhill, super-G, giant slalom and slalom standing races.
She also delivered a glittering performance in the 2016-17 season. At first, her campaign was placed in jeopardy before it even got underway. The Frenchwoman injured her knee in training, forcing her to sit-out pre-season preparations while she waited for it to heal.
However, she returned just in time for the World Championships in Italy where she faced long-term rival Andrea Rothfuss. Bochet took gold in the women´s downhill, super-G and super-combined to take her overall medals tally at Worlds to 18.
But her impressive run of form was halted by the German in the giant slalom and the slalom with the German leaving with golds from both events.
Bochet, who has agenesis of the left arm, started skiing at the age of five and made her Paralympic debut at Vancouver 2010 at just 15. While she failed to win a medal, she used the experience to build her resume, following it up with four medals at the 2011 World Championships in Sestriere, Italy.
The Frenchwoman, a native of Chambery, went unbeaten at both the 2013 and 2015 World Championships, amassing an impressive 11 consecutive world titles.
The 2015-16 season also saw Bochet winning all her races and reaching 50 World Cup career wins. That resulted in a sweep of World Cup globes in all disciplines and the overall title.
Follow us on Facebook
Follow us on Twitter