PARA SWIMMING

Maksym Veraksa
15 August 1984 Ukraine
LATEST TRIUMPHS:

Rio 2016 Paralympic Games: Gold: 50m freestyle; Bronze: 100m breaststroke and 100m freestyle

2015 IPC Swimming World Championships: Gold: 50m freestyle

London 2012 Paralympic Games - Gold: 50m and 100m freestyle and 200m individual medley; Bronze: 100m breaststroke

2010 IPC Swimming World Championships - Gold: 50m Freestyle, 100m Breaststroke & 200m Individual Medley; Silver: 100m Backstroke

Beijing 2008 Paralympics - Gold: 50m & 100m Freestyle; 100m Breaststroke & 200m Individual Medley; Bronze: 100m Backstroke
Find out about the full career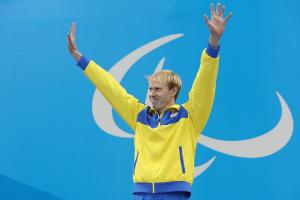 Maksym Veraksa is widely regarded as the world's fastest Paralympic swimmer as the world record holder of 22.99 seconds in the men's 50m freestyle S12. That record has stood since 2009 and is one of the oldest in Para swimming.
At the 2006 IPC Swimming World Championships in Durban, South Africa, Veraksa won his first world titles made up of four golds. Just two years later, he managed to repeat these results in the Aquatics Center at Beijing 2008, adding another bronze on top of his medal haul.
The 2010 IPC Swimming World Championships were similarly successful for Veraksa, as he came home with three golds and a silver. When coming to the 2011 IPC Swimming European Championships in Berlin, it was clear Veraksa would be the one to beat in the S12 class.
And once again, Veraksa proved his greatness in the pool, swimming to four gold medals, as he was only been beaten once by Russia's Alexandr Nevolin-Svetov in the 100m backstroke.
In recent years Veraksa has narrowed his focus, particularly to the 50m freestyle which he is unbeaten in across three Paralympic and four World Championships. However he as also achieved medal success in the 100m freestyle.
As he gets older it will be very interesting to see who, if anyone, can break the dominance of Veraksa in the men's S12.