WHEELCHAIR RUGBY

Maia Amai-Marshall
20 November 1987 Manukau, New Zealand
LATEST TRIUMPHS:

2018 World Championships Qualification Tournament – Silver

2017 Asia-Oceania Championships – Bronze

2015 Asia-Oceania Championships – Bronze

2014 World Championships – Eighth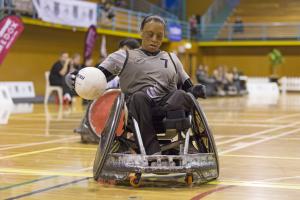 Maia Amai-Marshall is regarded as one of the toughest female wheelchair rugby players in the world.
She was part of the squad that reached the 2018 World Championship through the last-chance qualifying tournament in Nottwil, Switzerland. New Zealand finished 11th at the 2018 Worlds in Sydney, Australia.
She was first discovered by the New Zealand Wheel Blacks when a member of the team spotted her practicing wheelchair basketball.
Amai-Marshall became the lone female member of the national team, and she has played a very important role for the side, with the added bonus of being classified 0.5 points lower than anyone on the court.
She has been one of the trailblazers for women in wheelchair rugby with her proven success and would love to see more female players take up the sport.
She believes if they are talented enough, there is no reason why they will not be competitive and play an equally important role as any other player.
It is the physical side of the game that Amai-Marshall enjoys most, once she is out on the court, she is not afraid to put a big hit on anyone.