WHEELCHAIR BASKETBALL

Laura Fuerst
24 April 1991
LATEST TRIUMPHS:

2018 World Championships – Bronze

2017 European Championships – Silver

Rio 2016 Paralympic Games – Silver

2015 European Championships – Gold

2014 World Championships – Silver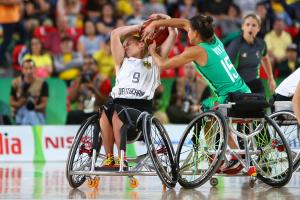 Laura Fuerst made her Paralympic Games debut at Rio 2016. Although the experienced nature of the squad meant her playing time was limited, Fuerst showed glimpses of what to expect ahead of Tokyo 2020. She starred at her home 2018 World Championships in Hamburg, where Germany defeated China 44-43 for bronze.
During Rio 2016, the 2-point player collected modest stats, including four points, two assists and three rebounds in the opening game in front of a rowdy Brazilian home crowd.
A product of the German Under-25 and U22 junior national teams, Fuerst played college wheelchair basketball at the University of Wisconsin – Whitewater in the USA. She had only been playing for three years prior to her move abroad.
Fuerst was involved in snowmobile accident in 2008 during an exchange year in the USA. Very involved in sports before her accident, Fuerst knew she wanted to stay active and was introduced to wheelchair basketball during rehab.