GOALBALL

Justas Pazarauskas
15 December 1991
LATEST TRIUMPHS:

2017 European Championships - Gold

Rio 2016 Paralympic Games - Gold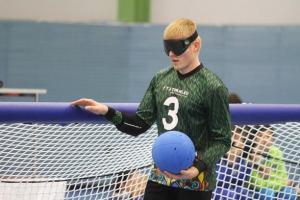 Justas Pazarauskas was hoping to take Lithuania to the top of the men's goalball podium at the 2018 World Championships in Malmo, Sweden, after leading the team to its first Paralympic gold at Rio 2016.
They qualified for the quarter finals after finishing second to Belgium in Group A. Lithuania went on to beat USA 7-4 to reach the semi-finals, and it looked like they could complete a Paralympic and world title double.
But Brazil were to break Lithuanian hearts, narrowly winning 7-6 to advance to the final and end their title hopes. The agonising defeat proved too difficult to recover from, and a 9-2 defeat by Belgium in the battle for bronze saw them end without a medal.
Twelve years ago, Lithuania were considered the best male goalball team on the planet after winning two successive world titles in 2006 and 2010, despite losing the Beijing 2008 Paralympic final to hosts China.
But they then missed out on the podium at London 2012 and again at the World Championships in Espoo, Finland, in 2014.
Since Pazarauskas joined the team, though, Lithuania have surged back to the top of the sport. His first international competition was nothing less than Rio 2016, where he scored 20 goals to help Lithuania reach the top of the Paralympic podium for the first time.
In 2017, he again led Lithuania to gold at the European Championships. Pazarauskas scored all six goals in the 6-3 victory over Germany in the final, finishing as the tournament top scorer with 32 goals.