BOCCIA

Hidetaka Sugimura
1 March 1982 Ito, Japan
LATEST TRIUMPHS:

2018 World Championships – Bronze (individual)

2017 Asia-Oceania Championships – Silver (team)

Rio 2016 Paralympics – Silver (team)

2016 World Championships – Bronze (individual)

2015 Asia-Oceania Championships – Bronze (team)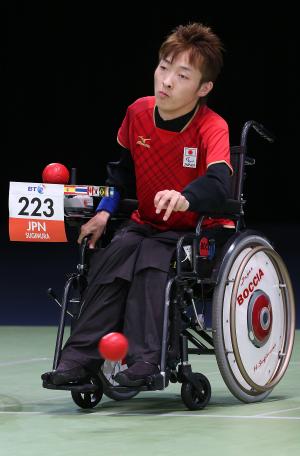 Hidetaka Sugimura captained the Japanese team that claimed a silver medal in the team BC1-2 event at the Rio 2016 Paralympic Games.
He is aiming to compete at the Tokyo 2020 Paralympics in front of his home fans and family.
At the 2018 World Championships, Sugimura lost out to Thailand's Worawut Saengampa in the semi-finals. But he did leave with a medal, defeating Slovakia's Robert Mezik for the bronze.
Born with cerebral palsy, Sugimura wanted to take up Para sports and his teacher suggested boccia to him in 2001.
He continues to play the sport, while working in the nursing care facilities in Ito, Japan.
In 2010, he represented Japan for the first time at the Asian Para Games in Guangzhou, China, and finished fifth in the individual BC2 class.
At London 2012, he made his Paralympic debut, but he did not reach the podium.
He earned a bronze medal at the 2016 World Championships in Beijing, China, his first individual medal at an international competition.