BOCCIA

Greg Polychronidis
13 August 1981 Vatumi, Georgia
LATEST TRIUMPHS:

2018 World Championships – Gold (individual)

2017 European Championships – Bronze (individual)

Rio 2016 Paralympics – Silver (individual), bronze (pairs)

2015 European Championships – Bronze (pairs)

2013 European Championships – Silver (individual)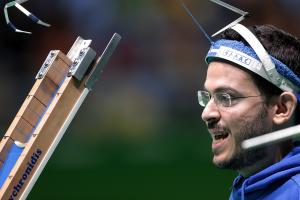 Greg Polychronidis finally won his first major individual gold after 12 years at the 2018 World Championships.
But at first, Polychronidis seemed on his way to the same heartbreaking result from the Rio 2016 Games' BC3 individual final. The Worlds gold medal clash was a repeat of that Paralympic final, in which Howon Jeong claimed the gold over Polychronidis. But the Greek athlete forced his way back to a tie and came out victorious.
Polychronidis took up boccia with the dream of participating in his home Paralympics at Athens 2004, and since then he has remained a medal contender in the BC3 category.
Although he has reached the No. 1 world ranked position numerous times, he had been searching for an individual gold medal at the Paralympic and World Championship stages.
He was a favourite at the 2016 Worlds in Beijing, China, but had an unfortunate turn. He reached the quarter finals, but his head-pointer was not taken to the call room. It was too late to bring his equipment out, so Polychronidis played without it in his next match and left those Championships without a medal.
That did not discourage Polychronidis ahead of the Rio 2016 Paralympics. He was Greece's flagbearer at the Opening Ceremony, and while that was his fourth Games, it was his first with his fiancée Katerina Patroni as his assistant.
The couple came up short in the gold medal match, losing to South Korea's Jeong Ho Won. But they held their heads high, and after getting married later that year, their partnership proved strong on the court as Polychronidis has maintained his No. 1 spot.
The 2018 season has started strong for him, with victories at the Madrid Regional Open and Greek National Championships (his 17th consecutive year) among the highlights.
Due to spinal muscular atrophy, which leads to muscle wasting, Polychronidis competes with a ramp to aim his shots and headgear to set them in motion.
Follow us on Facebook
Follow us on Twitter