ROWING

Great Britain mixed coxed four team
LATEST TRIUMPHS:

2018, 2017 World Championships - Gold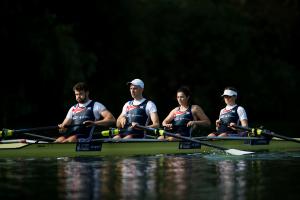 Daniel Brown – 29 November 1982
Ellen Buttrick – 8 March 1995
Grace Clough - 21 June 1991
Ollie Stanhope – 30 May 1998
Erin Wysocki-Jones – 5 August 1992
Great Britain's new-look PR3 mixed coxed four (PR3 Mix4+) look set to continue the country's dominant tradition in the category.
So far they appear to be in the right direction after winning their country's eighth straight title at the 2018 World Championships in Plovdiv, Bulgaria.
Ollie Stanhope, Daniel Brown, Grace Clough, Ellen Buttrick and cox Erin Wysocki-Jones make up the newest crew who just edged a boat from the USA by a boat's nose.
Clough and Stanhope are the only ones who return from the boat that won the 2017 World Championship gold with a World Best Time. Meanwhile Clough, along with Brown were part of the Paralympic gold medal winning crew from Rio 2016.