Swedish Goalball Success Hinges on Communication
16.05.2012
Niklas Hultqvist and Fatmir Seremeti hope to lead Sweden to the country's first Paralympic Goalball gold in London.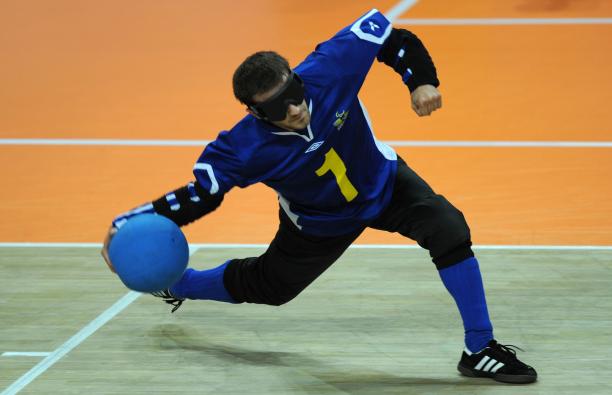 Fatmir Seremeti of Sweden competes in the Men's Semifinal Goalball match between Lithuania and Sweden at the Beijing 2008 Paralympic Games
© • Getty Images
By IPC
"Every sport deserves its own spot in the media and in the spotlight. I think that Goalball will be even bigger this time than in the 2008 Paralympics."
Communication is vital in all team sports.
But in Goalball, a Paralympic Sport for the visually impaired, it is absolutely essential.
As all players on the court wear blindfolds to balance their varying levels of visual impairments, the three players on the court at any given time must constantly converse.
"In Goalball, you're very dependent on the team and the communication within the team," Sweden's Niklas Hultqvist said.
Hultqvist, competing in his fourth Paralympics, is one of the top players on Sweden's men's team, which has reached the podium at the last three Paralympic Games yet is still seeking its first gold medal in the sport.
The squad finished with a bronze at Sydney 2000, fell to Denmark in the gold-medal match at Athens 2004 and then defeated USA in the bronze-medal match at Beijing 2008.
The players earned their qualification for London 2012 after finishing third at the 2011 IBSA European Championships, defeating Turkey, 5-2, for bronze.
Entering the spotlight
Despite finishing near the top of the pack at every major international event in the last decade, Sweden actually had a bit of trouble punching a ticket to London 2012.
The squad failed to qualify at the 2010 and 2011 World Championships, and waited until the last major tournament – the 2011 European Championships – to earn their spot.
"Everything got smoother once we knew we were going," said Fatmir Seremeti, who has been with the team since its 2002 World Championship title in Rio de Janeiro.
Together, Seremeti and Hultqvist will be the key communicators for a team that is getting quite a lot of attention back home.
"Every sport deserves its own spot in the media and in the spotlight. I think that Goalball will be even bigger this time than in the 2008 Paralympics," Seremeti said. "I think the sport is easier to understand today than it was 10 years ago. Players are much better at profiling themselves.
"When I started playing Goalball about 15 years ago, there were not many people who knew what the sport was. Now, often, people ask when we travel around in our shirts, 'Oh, is it that sport where you have to be blindfolded and you play with a ball that makes sounds?'
"We are amazed, like, 'Oh, people know now.' I'm looking forward to the future to see what will happen."
The Swedish players practice twice a day, doing everything from weightlifting and cardio to Goalball defense techniques and strategy. They play with their club teams during the week and get together with the national team about two weekends per month.
Seremeti, who used to play football and participate in martial arts, took up Goalball shortly after he was diagnosed with glaucoma when he was 14 years old. He is now able to train full-time given that he works at a local sports club that hosts Goalball events.
Hultqvist has nearly 10 per cent of his vision intact, while Seremeti has just four to five per cent of his sight, though both are completely blindfolded on the court. They have to resort to shouting out instructions to keep themselves synchronized, and at the same time, keep an ear available to hear the bell within the moving ball.
"The communication is a very important part of our game, and it affects also a lot of the mental game," Hultqvist said. "As soon as it gets quiet, the team usually falls apart a little bit. Then we start playing as individuals rather than as a team.
"Every shot is really a goal opportunity, so there's always a chance for a goal or something to happen. You hear it when a team scores. It's quite obvious."
Rising up
Sweden will not have an easy time reaching the podium in London, as its preliminary competition group is stacked. It includes Brazil and four other European teams: Lithuania, Great Britain, Finland and Turkey.
"There are no bad teams coming to London. It will be very, very close, and a very interesting tournament," Seremeti said.
"Lithuania is the current world champions. Finland is the current European champions. Turkey is developing very, very fast and getting a lot of attention and a lot of resources."
Who will be the toughest of those?
"Picking out one of those teams is difficult," Hultqvist said. "It's always special with the Paralympics because there's much more people watching, a bigger audience and more pressure also for the mental game."
Prior to London, the team will be on the road for much of the summer, heading to tournaments in Slovenia, Belgium, Spain and Lithuania. They will then host the Malmo Open at the end of July, drawing 10 of the world's top teams, including seven which will also be competing in London.
The Swedes' bags are already packed with plenty of silver and bronze, but do they think they have the roster to win gold in London?
Hultqvist paused, as if the answer were obvious.
"That's the only one I have left," he said, firmly.