WHEELCHAIR FENCING

Dimitri Coutya
7 October 1997
LATEST TRIUMPHS:

Rio 2016 Paralympic Games – Fifth place: men's epee category B

2016 European Championships – Silver: men's foil category ; Bronze, men's epee category B

2015 World Championships– Silver: men's foil category B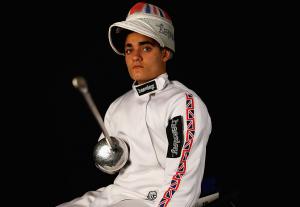 Though still a youngster, Coutya already commands great respect in the men's foil and epee category B competitions and has improved at an incredible rate since arriving on the senior circuit in 2014.
He announced himself as a contender for top accolades at the start of the Rio 2016 qualifying campaign, winning his first senior World Cup gold in the men's epee category B event in Montreal, Canada, in May 2015.
Coutya's place as one of the sport's hottest prospects was confirmed when he won gold in the same competition at the World Cup in Warsaw, Poland, two months later, beating Brazil's London 2012 foil category B gold medallist Jovane Silva Guissone to take the title.
A place among the world's wheelchair fencing elite was cemented with a silver medal in the foil category B contest at the 2015 World Championships in Eger, Hungary, and Coutya has not looked back since.
Podium places and victories against the sport's biggest names became commonplace for Coutya in 2016, a year he said was extremely valuable for his development.
"2016 brought many firsts for me," Coutya explained. "The biggest highlight was probably my Paralympic debut in Rio where I made the quarter finals in both of my disciplines. Added to this was a bronze and silver medal at the 2016 European Championships [in Casale Monferatto, Italy], where I managed to knock out several big names who I have idolised since I first started in the sport."
While many would regard two quarter-final appearances at their first Paralympic Games a success, Coutya said he was disappointed not to win a medal in Rio.
"I made mistakes in Rio," Coutya admitted. "Sport at the top level is vicious in terms of room for error. One slight mistake can cost you the competition when you are fighting the best fencers in the world.
"If I had won a couple more points in the right places, the Paralympics could have turned out very differently. I train with mental strength at the forefront. This sport is not just about who is the strongest or the fastest."
Follow us on Facebook
Follow us on Twitter