ARCHERY

David Drahoninsky
19 May 1982 Kaplice, Czech Republic
LATEST TRIUMPHS:

2018 European Championships – Gold: mixed team W1; silver: men's individual W1

Rio 2016 Paralympics - Silver: W1 category; Bronze: Mixed team W1

2015 World Championships - Gold: W1 category

London 2012 Paralympic Games - Silver: W1 compound

2013 World Championships - Silver: W1 category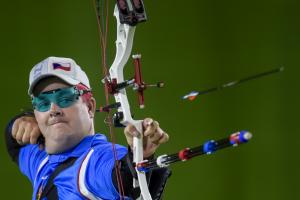 David Drahoninsky might not have medalled at the 2017 World Championships. But the Czech archer has proven over and over that he should never be counted out of the podium.
His most recent major triumph was mixed team gold at his home 2018 European Championships with Sarka Musilova. Drahoninsky fell short of the gold medal the following day in the men's individual W1. But the 37-year-old remains world No. 1 in his category.
He celebrated one of the greatest victories of his career by winning the W1 category at the 2015 World Archery Para Championships in Donaueschingen, Germany, after beating Great Britain's John Walker. It was his first title, after a silver and bronze in the previous two competitions in Bangkok 2013 and Turin 2011.
On the way to his world title, the Czech set a new world record of 144 in the quarter final while beating defending world champion Jean Pierre Antonios. Earlier in 2015, Drahoninsky also broke the 50m round, 72-arrow world record with a new mark of 674.
At the Rio 2016 Paralympics, Walker got revenge beating the Czech in a tight 141-139 showdown. It was not all bad news for Drahoninsky in Rio, as he proposed to his girlfriend Lida Fikarova shortly after the medal ceremony.
At the London 2012 Paralympics, Drahoninsky won silver in the men's W1 compound, succumbing to the USA's Jeff Fabry.