CANOE

Curtis McGrath
31 March 1988
LATEST TRIUMPHS:

2017 World Championships – Gold (KL2 and VL3)

Rio 2016 Paralympic Games – Gold (KL2)

2016 World Championships – Gold (KL2 and VL2)

2015 World Championships – Gold (VL2), silver (KL2)

2014 World Championships – Gold (VL2)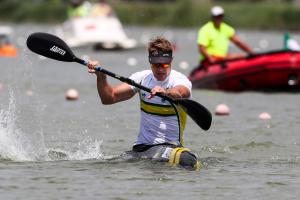 Curtis McGrath overtook his Austrian rival Markus Swoboda in the men's KL2 category by winning gold at the Rio 2016 Paralympics, making him the new man to beat.
With the Va'a boats added to the Tokyo 2020 Games programme, McGrath can now target two Paralympic medals. He won both events at the 2017 Worlds in Racice, Czech Republic.
The Australian took up the sport in December 2013, having lost his legs in a mine blast while serving in the Australian army in Afghanistan.
In 2014, almost two years after losing his legs, he won the 200m VL2 world title in a world record time in Moscow, Russia.
When the Paralympic events for Rio 2016 were announced, McGrath started competing in kayak events as well.
At the 2015 World Championships, in Milan, Italy, he won a gold medal in the men's 200m VL2 and a silver medal in the 200m KL2. He followed that up with two titles at the 2016 World Championships in Duisburg, Germany.
But far from feeling satisfied, McGrath went on to claim Paralympic gold in Rio, ahead of Swoboda.
"I am happy to have won and hope me being on the spotlight can get more people involved with Paralympic sports," McGrath said.
Follow us on Facebook
Follow us on Twitter