SHOOTING PARA SPORT

Cuiping Zhang
24 September 1987 Hebei, CHN
LATEST TRIUMPHS:

2018 World Championships – Bronze: R8 (women's 50m rifle 3 positions SH1)

Rio 2016 Paralympic Games - Gold: R6 (mixed 50m rifle prone SH1) and R8 (women's 50m rifle three positions SH1); Silver: R2 (women's 10m air rifle standing SH1)

2014 IPC Shooting World Championships - Gold: R8 (women's 50m rifle three positions SH1)

London 2012 Paralympic Games – Gold: R2 (women's 10m air rifle standing SH1), R8 (women's 50m rifle three positions SH1); Bronze: R3 (mixed 10m air rifle prone).

2010 IPC Shooting World Championships – Silver: R2 (women's 10m air rifle standing SH1), R8 (women's 50m rifle three positions SH1)
Find out about the full career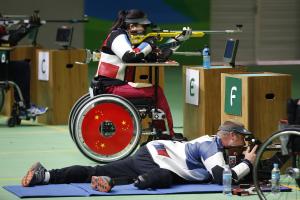 Cuiping Zhang has consistently been one of the sharpest shooters in the sport, and she was right on target at the 2018 World Championships. She captured bronze in the R8 (women's 50m rifle 3 positions SH1), an event that includes sporting great Veronika Vadovicova of Slovakia.
The 31-year-old from Handan City, China, has been involved in the sport since 2003 after being selected by the Hebei shooting team during a recruitment drive.
Zhang, who contracted polio that affected the use of her legs at age three, became a Chinese team member in 2006 and opened her Paralympic medal account, pocketing two silvers at the Beijing 2008 Games.
At the 2010 World Championships, Zhang won another two silver medals in R2 (women's 10m air rifle standing SH1) and R8 events.
Her coach, Wang Ping, described Zhang as having a great mental strength and this innate ability helped her win two titles at the London 2012 Paralympics, including R2 against teammate Dang Shibei and European champion Vadovicova.
She claimed the first gold of the London 2012 Paralympic Games in R2, setting a world and Paralympic record in the process, followed by another Paralympic title in R8.
Zhang has no intention of giving up on the sport she loves.
"I have no thought to stop shooting as I love it," she said. "As long as my performance continues well, I will continue to shoot."
That she did. In 2014, Zhang retained her world title in R8.
In 2015, Zhang set three new world records. At the World Cup in Osijek, Croatia, she set a new qualifying and finals world best in R8 and a new finals world record in R2.
When Rio 2016 came around, Zhang proved unstoppable in two events, winning gold in R6 (mixed 50m rifle prone SH1) and R8, both with new finals Paralympic records. In R2, she also set a new Paralympic record in qualification but could not quite beat Vadovicova and claimed silver.