PARA NORDIC SKIING

Brian McKeever
20 June 1979 Calgary, Canada
LATEST TRIUMPHS:

PyeongChang 2018 Paralympic Winter Games – Gold: cross-country long distance, cross-country sprint, cross-country middle distance; Bronze: open relay

2017 World Para Nordic Skiing Championships: Gold - cross-country middle distance, cross-country long distance; bronze - cross-country open relay

Sochi 2014 Paralympic Winter Games: Gold - cross-country middle distance, cross-country long distance, cross-country sprint

2013-14 IPC Cross-Country Skiing World Cup: Overall third place

2012-13 IPC Cross-Country World Cup: Overall first
Find out about the full career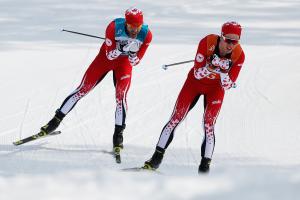 Brian McKeever has continued his winning form into 2019, with one gold and two silvers in cross-country vision impaired races at the Vuokatti World Cup. This was the first event he competed in after making history at PyeongChang 2018.
Alongside guides Russell Kennedy and Graham Nishikawa, he won three gold medals to become the most successful cross-country skier in Winter Paralympic history. He has so far won 13 golds across five Games.
The Canadian legend won gold in the long distance, middle distance and sprint vision impaired, before adding a bronze in the open relay on South Korean soil.
One year before, McKeever had claimed double cross-country gold in the men's middle and long distance vision impaired at the World Championships in Finsterau, Germany. He has so far won 16 world titles.
McKeever is widely-recognised as one of the best Para Nordic skiers in history.
He first tried skiing at three years old and began competing at 12. He was chosen as Canada's flag bearer for the Closing Ceremony of Salt Lake City 2002.
In 2007, he was named Best Male Athlete at the International Paralympic Committee (IPC) Paralympic Sport Awards and received the Best Male Athlete award at the 2014 Canadian Paralympic Sport Awards.
His older brother Robin, who competed in cross-country skiing at the Nagano 1998 Olympic Winter Games, has also served as Brian's guide for several years and has coached the Para Nordic skiing team on the international scene.
At age 19, McKeever was diagnosed with Stargardt disease (a macular degeneration or loss of central vision – fine detail and colour), which had also afflicted his father.
Follow us on Facebook
Follow us on Twitter