PARA ATHLETICS

Brent Lakatos
3 June 1980 Dorval, Canada
LATEST TRIUMPHS:

London 2017 World Para Athletics Championships – gold: 100m, 200m, 400m and 800m T53

Rio 2016 - gold: 100m T53; silver: 400m T53; bronze: 800m T53 and 4x400m T53/54 relay

Doha 2015 World Championships - gold: 100m, 200m and 800m T53; silver: 400m T53

Toronto 2015 Parapan American Games - gold: 100m, 400m and 800m T53

Lyon 2013 World Championships - gold: 100m T53, 200m T53, 400m T53, 4 x 400m Relay T53-54; silver: 800m T53
Find out about the full career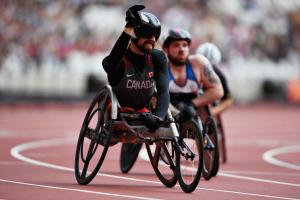 Lakatos has competed at no fewer than five World Championships, dating back to 2006. He has finished on the podium every single time, but London 2017 was undoubtedly his best yet.
The Canadian dominated the men's T53 class winning the 100m, 200m, 400m and 800m – one of only three Para athletes (alongside Walid Ktila and Tatyana McFadden) to win four gold medals.
Earlier in the year Lakatos had given a great indication of his form when he smashed five world records over 10 days racing in Switzerland, including the men's 1,500m T53/54. Lakatos crossed the line in 2:51.84 – taking more than two seconds off the previous mark set by Swiss racer Marcel Hug back in 2010.
In Athens 2004 and Beijing 2008 Lakatos, a former wheelchair basketball player, had finished out of the medals. But London 2012 proved a turning point for the then 32-year-old when he finished second in the 200m, 400m and 800m T53.
He went on to win four golds and a silver at the Lyon 2013 World Championships, then days later he set a new 100m T53 world record (14.34) in London's Olympic Stadium during the Anniversary Games.
In 2014 Lakatos, who is married to British Para athlete Stef Reid, maintained his scintillating form. In May that year, at Nottwil Grand Prix in Switzerland, he lowered his own 100m world record by 0.17 seconds.
Success continued in 2015, with three gold medals on home soil at the Parapan Am Games in August. Lakatos won the 100m, 400m and 800m T53 in Canada and headed to the Doha World Championships two months later where he claimed gold in three out of four events, losing out to China's Li Huzhao over 400m.
By Rio 2016 Lakatos had another great rival in Pongsakorn Paeyo and it was the Thai who came out on top in the 400m and 800m, while Lakatos claimed 100m T53 gold. Less than a year later and back at the London Stadium for the World Championships, Lakatos turned the tables on Paeyo and achieved a clean sweep of individual titles.