PARA SNOWBOARD

Brenna Huckaby
22 January 1996 USA
LATEST TRIUMPHS:

PyeongChang 2018 Paralympic Winter Games – Gold: snowboard-cross and banked slalom women's SB-LL1

2017-18 World Para Snowboard World Cup – Overall winner and first place in snowboard-cross and banked slalom women's SB-LL1

2017 World Para Snowboard Championships: Gold - Banked slalom and snowboard-cross women's SB-LL1

2016-17 IPC Snowboard World Cup: Overall second - Banked slalom and snowboard-cross women's SB-LL1

2015 IPC Snowboard World Championships: Gold - Snowboard-cross; Silver - Banked slalom women's SB-LL1
Find out about the full career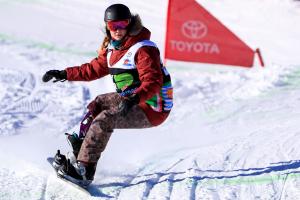 Brenna Huckaby was one of the highest-profile athletes in the sport, and she lived up to the hype in her first Paralympics at PyeongChang 2018.
At 22 years old then, Huckaby claimed both women's snowboard-cross and banked slalom SB-LL1 titles. It was a successful debut, with the gold completing her collection of world titles and World Cup crystal globes; she was also the overall crystal globe winner of the 2017-18 World Cup season.
Huckaby stormed into the Para snowboard scene at 19 years old, when she claimed a pair of World Championship medals, including gold in snowboard-cross. She missed the next season due to pregnancy but came back even stronger. Rejoining the national team's training in August 2016, Huckaby reached the top of the podium in all but two of her World Para Snowboard events in the season.
Just a few points separated her from French rival and overall World Cup winner Cecile Hernandez. But Huckaby, at 21, positioned herself as a gold-medal favourite for PyeongChang 2018 after taking double-gold at the 2017 World Championships in Big White, Canada.
She overtook Hernandez in the snowboard-cross big final to win. The following day, she overcame a technical error in her first run of the banked slalom to clock the fastest time in her second to win another world title.
Huckaby's first love was gymnastics. At 14 years old, she was diagnosed with Osteosarcoma, a rare bone cancer which resulted in the amputation of her right leg above the knee. Following a difficult year in which the teenager had to give-up gymnastics, Huckaby was invited on a rehabilitation ski trip. She wanted to snowboard because it reminded her of the beam, her most successful event, and the transition was smooth.
Follow us on Facebook
Follow us on Twitter