Yasushi Yamawaki: Tokyo 2020 will be gateway to the future
12.11.2014
IPC Governing Board member Yasushi Yamawaki is also President of the Japanese Paralympic Committee. On the 50th anniversary of the Tokyo 1964 Paralympic Games Closing Ceremony he looks ahead to what Tokyo 2020 can do for Japan.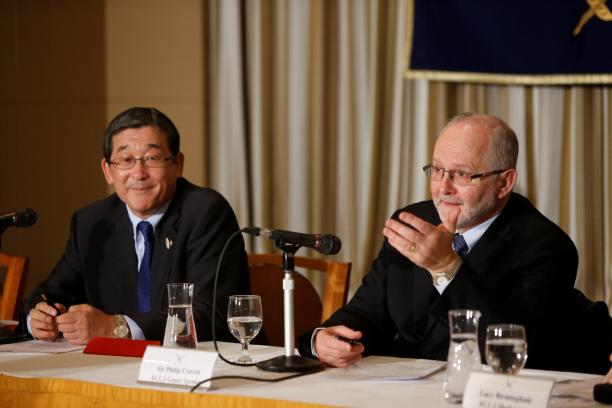 IPC President Sir Philip Craven and Governing Board member Yasuhi Yamawaki at the Foreign Correspondents' Club of Japan.
© • IPC
By Yasushi Yamawaki
From a sporting viewpoint, the Games present a huge opportunity to get more people active in para-sport at all levels, from the grassroots right through to the elite level.
Since the Paralympics Games were last held in Japan half a century ago, they have transformed into the world's third biggest sporting event with a strong track record for driving social inclusion. They are a very different event to what we last hosted 50 years ago.
Back in 1964, 375 athletes from 21 countries took part, whilst in six years' time around 4,500 high performance athletes from 170 countries will be in Tokyo when it becomes the first city ever to stage the Paralympic Games for a second time.
From a sporting viewpoint, the Games present a huge opportunity to get more people active in para-sport at all levels, from the grassroots right through to the elite level.
Apart from the obvious health benefits any sport participation brings, getting more people involved at the grassroots level is the only way we are going to develop more top class Paralympians in this country.
And it is vital that Japan does well at Tokyo 2020, as previous Games have shown that a strong home nation is key to a successful Games.
At London 2012, team Japan finished 24th in the medals table. We need to do better in six years' time and we have set a target for Tokyo 2020 - placing seventh in terms of the number of gold medals. It's an ambitious target but one I am confident we can meet.
In wheelchair tennis, through Shingo Kunieda and Yui Kamaji, Japan currently boast the world's number one ranked players in the men's and women's game, and following Mami Sato's presentation at the IOC Session in September 2013, awareness of para-sport in this country has risen to new levels.
Paralympic champions are not created overnight, they are developed over time and the Japanese Paralympic Committee hopes the programmes we will implement to develop athlete pathways between now and 2020 will have the desired effect.
In early October, I was part of the IPC Governing Board which decided on 16 para-sports which will definitely feature at Tokyo 2020, including para-badminton which will be included in the Games for the first time.
Twenty four sports applied to be part of the Games, and although we can have a maximum of 23, our aim is to ensure that Tokyo 2020 showcases the best of what para-sport has to offer. If this means we have less than 23 sports, then so be it!
For the eight sports still in the running, we identified a number of issues with their submissions and the IPC Governing Board will re-evaluate these applications when it meets in Abu Dhabi next January before making a final decision.
As with any Games, legacy is always a hot topic.
More people practicing para-sport and a stronger Japanese team are clearly tangible legacies of the Tokyo 2020 Games, as are the venues, facilities and infrastructures relating to the Games that will be built here.
But one legacy the Paralympics will deliver, which very few other sporting events can, is a significant impact on Japanese society.
The Tokyo 2020 Paralympics will change a social perception and remove a barrier in people's mind towards impairment.
I strongly believe that the Paralympics have the power to change and create a more equitable and inclusive society.
We need an inclusive society. Inclusive means equal opportunities and participation not only for people with impairments, but also for every member of society.
The Tokyo 2020 Paralympics will be a kind of gateway to the future - a golden opportunity to leave a legacy, which connects to an equitable, comfortable and inclusive society.
To finish I just want to touch on the role media, broadcasters and commercial partners can have on the Games.
As with any Games they are instrumental in its success, but with the Paralympics they can also be instrumental in helping to change the lives of millions of people.
The Paralympic Games is a high performance sporting event featuring athletes managing feats you never ever thought possible.
I am confident Tokyo 2020 will deliver the best ever Paralympic Games and I look forward to welcoming you to the Japanese capital in six years' time,
Please join us, come meet incredible athletes, see the amazing Games and feel part of it. You are sure to be inspired!
IPC Governing Board Member and President of the Japanese Paralympic Committee