Stuart Lieberman: Top 10 Paralympians to interview
29.05.2014
The IPC's Editorial Co-ordinator outlines some of the most insightful, funny and enlightening Paralympians in the world to interview.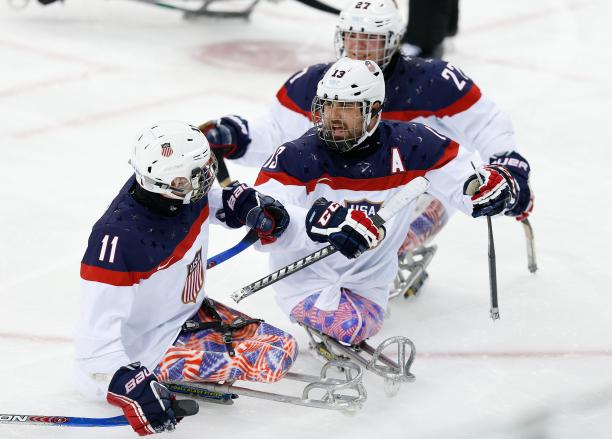 Josh Sweeney scored the lone goal in the Sochi 2014 ice sledge hockey gold-medal game to lead the USA to victory.
© • Getty Images
"I thought, if I'm alive, I'm going to do something with my life and I'm going to enjoy it."
Evan O'Hanlon
In addition to speaking about his love for coffee and his five sisters, the four-time T38 Paralympic champion sprinter is open with reporters about his impairment, often calling his cerebral palsy a "non-sexy disability." He sets world records and wins races like it's nobody's business and will answer anything you ask him about his training regime.
Greg Westlake
The Canadian "chipper" is not here to talk about pity for people with an impairment or para-sport as a rehabilitation activity. He's here to talk about hockey. Plain and simple. As captain of Canada's world champion ice sledge hockey team, Westlake is the perfect source for the latest ice sledge hockey gossip and will tell you like it is. That is, as long as you treat him like a hockey player and not someone with an impairment.
This Hong Kong wheelchair fencer, who goes by Alison outside of her native country, was named a "seven-gold princess" by the media upon her return home from the London 2012 Paralympics. Yee, who lost her left leg to bone cancer at 11, has always been about sharing her accomplishments with others. "I think being a Paralympian and a medallist, of course it's the reward of our hard work, but if you can try to share your story with the public, it just delights them so much," she said.
Josh Sweeney
As a former US Marine Sargent who lost both his legs in Afghanistan, this American ice sledge hockey star is arguably the most up-beat athlete you will ever meet. He cracks jokes left and right, always talks about his teammates before himself and always knows how to put a positive spin on a situation. Scoring the lone goal in the Sochi 2014 gold-medal final to give the USA the victory now makes his story that much sweeter.
Aniek van Koot
Need a quick pick-me-up or motivational quote? This Dutch wheelchair tennis player has loads of them to brighten up your day. She is a role model for people with an impairment everywhere, always encouraging everyone to get out of their homes and get involved in sports. She also has the potential to become the next Esther Vergeer.
Markus Salcher
When you need a winter sport rivalry, look no further than this Austrian alpine standing skier, who won two golds and a bronze at the Sochi 2014 Paralympics. He loves to spice up his rivalry with former able-bodied skier and compatriot Matthias Lanzinger, and if Salcher talks the talk, well, he certainly can walk the walk to back it up.
The seven-time Paralympic and 12-time world champion is a family man, and he loves to share stories of his family with the media. At times, he even ensures his mother comes poolside with him to introduce her to reporters. While Daniel Dias will be a big star at Rio 2016 in his home Games, expect Brasil to be right up there, too, especially with the media.
Will Bayley/David Wetherill
These are two athletes from the British table tennis team, but both had to be mentioned. Put together Bayley's inspirational silver-medal performance and Wetherill's wonder shot at London 2012, and that alone showcases the British table tennis squad's talent. Away from competition, the duo are hilarious and TV gold for Channel 4.
Philipa Johnson
This South African para-equestrian rider gave a great interview to the IPC for its "Funding the road to Rio" feature in last year's edition of The Paralympian magazine. She really knows how to represent the athlete voice in the Paralympic Movement and will stand up for her teammates who may be afraid to put forth their voices. She also does a lot to help both her country and sport.
Noam Gershony
Six years removed from surviving an Israeli army helicopter crash, this wheelchair tennis player won gold at the London 2012 Paralympics. He immediately burst into tears on the podium. Ever since that moment, he has filled his schedule with media interviews, speaking engagements and guest appearances, willing to act as an ambassador on behalf of the Paralympic Movement. "I thought, if I'm alive, I'm going to do something with my life and I'm going to enjoy it," he once told the IPC.