Sir Philip Craven: Prepare to be inspired and excited by Wheelchair Basketball
15.06.2012
With a Wheelchair Basketball career that spans over 20 years, the International Paralympic Committee President, Sir Philip Craven, reflects on aggression, getting in the zone and technological developments in the sport.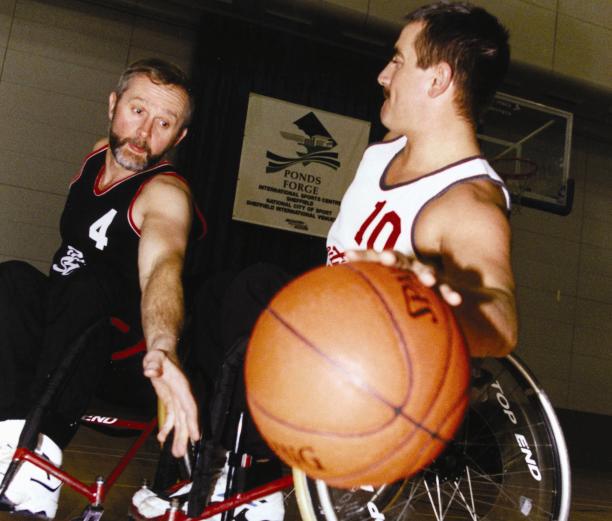 Sir Philip Craven's Wheelchair Basketball career spanned over four decades. Here he defends against Steve Owen in 1995.
© • IPC
By Sir Philip Craven
The new chairs were so manoeuvrable. When I got my first chair, it was like I'd just been given the best Christmas present ever. I tried it out in the street and I just couldn't believe the way it moved.
When I first started playing Wheelchair Basketball I had all the energy and aggression of a teenager, but hadn't quite worked out how to channel it.
In one of my first international matches in 1969 I was sent off for five fouls in the first half. It was a pretty steep learning curve for me and I quickly realised I couldn't only play rough-tough Wheelchair Basketball at the international level.
My first memorable performance was in the 1970 Commonwealth Paraplegic Games Wheelchair Basketball final in Edinburgh, when we played our old foes, Australia. I was only 20 years old then, and the coach put on the more experienced players in the first half.
We were down by about 12 points at half time, when he decided to put the young players on, and we ripped the Aussies apart to win gold.
By then I'd learnt to use my aggression in a positive way.
Just as I was developing as a player, so too was the sport.
Although the science of training has definitely improved, for me the biggest advancement for the sport was in 1979 when new technology in wheelchair design was introduced. This involved cambering the rear wheels and bringing them further forward on the frame of the wheelchair.
The new chairs were so manoeuvrable. When I got my first chair, it was like I'd just been given the best Christmas present ever. I tried it out in the street and I just couldn't believe the way it moved.
It was an absolutely incredible revolution for the sport – and other wheelchair sports like Rugby and Tennis soon benefited from it too.
The game became faster. If you had a bird's eye view of the court, as well as going faster from the back to the front of the court, it was the sideways movement that speeded up the most.
As we were enjoying the new technological developments, our technical skills were growing too.
Wheelchair Basketball is a sport in which you never stop learning and that was the great attraction for me. Before I had my accident, I loved playing sport, but I didn't like training at all, and once I started playing Wheelchair Basketball, I loved the training as much as the playing.
Probably my greatest game ever was in the semi-finals of the 1986 International Stoke Mandeville Games against USA when we beat them 65-60 and I scored 25 points.
That was the only time I was really in the zone. I had all the training and years of experience, and all of a sudden something happened that was just quite magical.
I went down to the court with the team and I only took four shots in the warm-up.
I said, "I don't need to take any more. I can't miss."
That isn't meant to sound big-headed. I just had that feeling that the ball was going in the basket, and that's the way it went.
I was 36 at the time, but I just couldn't sleep all night afterwards – I was so excited and buzzing about winning against the US.
I was probably exhausted when we had the final the next morning at 10:30 against the Aussies. We lost by 2 points in a low scoring game.
But despite this personal set-back, the sport as a whole was really coming into its element, and it wasn't going unnoticed.
The Paralympic Games that really changed everything was Barcelona 1992 when spectators came out in their hundreds of thousands.
It was the first time a 12,000-seater stadium was packed with basketball fans. The players had to get used to that. They'd never been in such a cauldron of sporting activity, which was created by themselves because it was such a great sport.
Looking ahead to London, what excites me as a Brit is that the British men's team definitely has a chance of going all the way, but there's so much competition against them that it's by no means certain.
But what excites me even more is that for the first time at a Paralympic Games, Britain's got a credible women's team that could get a medal, which would be amazing.
British Wheelchair Basketball can be very proud of the fact that they've now got two strong teams going into London, and of course that'll bring in the crowds.
Our vision is to enable Paralympic athletes to achieve sporting excellence and inspire and excite the world.
I can tell you now that the British public and spectators from around the world will be surprised, then they'll be inspired, then they'll be excited by the performances in London not just in Wheelchair Basketball, but all the other 19 Paralympic sports too.
They'll see things that they just didn't think were possible.