Mike Stuart: Experiencing the power of the Paralympics
24.10.2016
An IPC volunteer writer for three years, Stuart was invited to cover judo and wheelchair fencing at Rio 2016.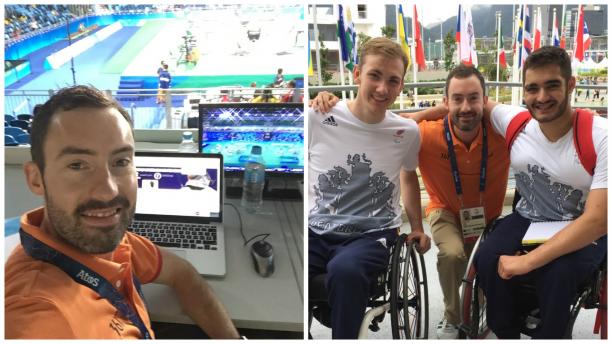 IPC volunteer writer Mike Stuart at the Rio 2016 Paralympic Games. Stuart covers wheelchair fencing for the IPC.
© • Mike Stuart
By Mike Stuart
Having worked as part of the PR team for the major energy sponsor of London 2012, I had been privileged to experience the Paralympic Games first-hand. Though my work was focused around the power that literally lit up the stage for the athletes, I discovered it was the electric atmosphere the athletes and crowds created that was the true power of the Paralympics, and it stayed with me long after the Games.
Being involved with London had been such an inspirational experience, I really didn't know how I was going to fill the void left when the curtain fell on the Closing Ceremony.
Then, in early 2013, fate came calling in less than 140 characters.
I was waiting for a tram when a tweet from the International Paralympic Committee (IPC) called for applications for volunteer writer positions. In the flurry of excitement reading through the job description I missed my tram. When I finally made it home I applied straight away and before I knew it I was the wheelchair fencing reporter for Paralympic.org
Over three years later and, though I missed that tram, I was on the plane to Rio, feeling extremely lucky to have been selected as an honorary member of the IPC editorial team at the Games.
Excited doesn't come to close to describing how it felt to be on my way to see the fencers I'd covered and wrote about for years go for gold. The icing on the cake was that, with wheelchair fencing only held in the second week of the Games, I'd spend the first week covering judo. This was something I was really looking forward to after covering the 2015 International Blind Sports Federation (IBSA) Judo European Championships in Portugal in preparation.
I also couldn't wait to catch up with the teams from IBSA and the International Wheelchair and Amputee Sports Federation (IWASF) who have always been so supportive of my coverage of their events on Paralympic.org.
So there I was on a flight to Brazil.
When the lady next to me on the plane spotted the Rio 2016 logo on my documents she started asking me about my role at the Games, so of course I explained with pride. She then proceeded to tell me how she had been in charge of the project to connect the electric grid to the Rio Olympic Park. There it was again, the power of the Paralympics – not the electricity, but the bringing people together.
Attending the Opening Ceremony was the perfect start to my Rio 2016 experience. Of course, I gasped along with the rest of the world when Marcia Malsar dropped the torch. And, like the rest of the world, I was moved as the deafening crowd in the Maracana cheered her to her feet once more. For me, it was the perfect showcase of the Paralympic spirit.
I was reminded of this when covering the judo a few days later, as US judoka Dartanyon Crockett said "In judo, you take a lot of falls. You take falls every morning, every night. But the important thing is getting up. Right back up."
Never giving up when things get tough. That's the power of a Paralympian.
Such inspiring moments come thick and fast at a Paralympic Games. It's hard to pick personal highlights, but interviewing Italy's Bebe Vio after she won women's epee category B gold was one. A torch-bearer rather than competitor at London 2012 and the only fencer to compete with no arms or legs, Vio's story is an incredible one. I feel lucky to have been able to follow her rise in the sport over the past few years. Interviewing her after she achieved her dream was a real privilege and her unbridled joy was infectious.
Another honour was meeting young Great Britain fencers Piers Gilliver and Dimitri Coutya. Extremely nice guys off the piste, they transform into fierce competitors when their masks drop. Gilliver's silver in the men's epee category A event was the first British fencing medal at the Paralympic Games for 24 years. As a Brit, that was a special moment to witness.
It was also nice to be the one to break the news to Hong Kong's seven-time gold-medallist Chui Yee Yu that her silver medal in the team epee event meant she became the most decorated female fencer of all time – a record she was not aware of, but delighted to learn about.
In Rio I shared a room with Beau Greenway, the volunteer writer for wheelchair rugby and powerlifting. Beau's an Aussie with a dry sense of humour, and we got on straight away. When we weren't covering our respective sports we tried to catch as many events as possible. I managed to watch eight sports and each was thrilling. The blind football was particularly awe-inspiring. The way those guys play is mind-blowing and proved to me that anything is possible. There it was again, the power of the Paralympics, embodied by every player on the pitch.
Since I returned to the day job, I've been asked countless times to describe my time in Rio, and it's extremely tough to do it justice. It reminds me once again of my interview with Dartanyon Crockett. I asked him if he could put into words how he was feeling now he had a bronze medal around his neck. "There aren't enough words in the English dictionary," was his response.
That's how I feel about summing up my experience of Rio 2016. How can you define being part something that means so much, in so many ways to so many people? You can't.
All I can say is that I experienced the true power of the Paralympics. And that it's something I'll never forget.
Mike Stuart is the beat writer for wheelchair fencing. Follow his work at paralympic.org/wheelchair-fencing/news and follow him on Twitter at @MichaelStuart. The IPC volunteer writers programme was launched in 2013 and currently consists of more than 30 volunteers from around the world helping produce content for Paralympic.org.