Jason Maroney: Shooting, the sport that saved my life
18.12.2013
Australian shooter on how he got into competitive shooting and how it helped him move on with his life.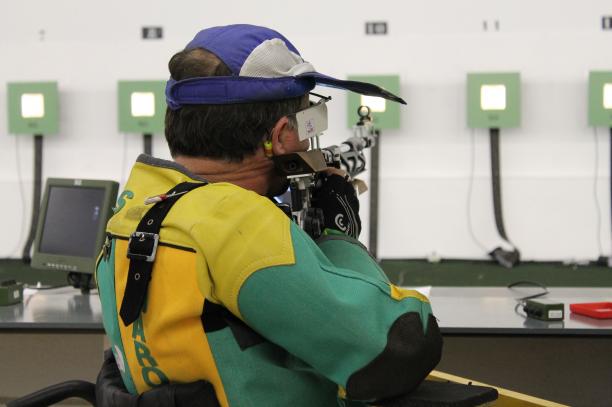 Aussie Jason Maroney, an established and well respected member of the shooting community, competes in 2013.
© • IPC
By Jason Maroney
Winning competitions against people who didn't have any disability was great, but winning against the world's best simply cannot be put into words!
Being involved in target shooting as a sport was one of the best decisions that I have ever made. Having been in the army for three years prior to the accident that left me quadriplegic, I needed an outlet to get back into the rhythm of life.
While still in hospital, a group of us were taken away on a 'camp' where we participated in a few activities, one of which was shooting some cans with a .22 rifle. I had handled different guns as a soldier in the army and therefore felt really frustrated when I could not even hold the rifle and shoot it by myself!
In those early days following my accident, it was tough as I tried very hard to adapt to life in a wheelchair – not just because of sitting down all the time, but not having any use of my hands. My arm muscles didn't work and I was confronted by everything else that came from being a quadriplegic. I went on to do a lot of strength training to gain use of my arms again and also had an operation done on my thumb to improve my pinch-grip.
Just being involved with a shooting club gave me a purpose and allowed me to become part of the shooting community. I began enjoying competitions and loved the thrill of success. Winning competitions against people who didn't have any disability was great, but winning against the world's best simply cannot be put into words!
My first competition as a part of the Australian para-shooting team and only my second time overseas in a wheelchair was a very long flight to Poland for the Open European Champs in 2005. I didn't shoot very well, which was surprising for me as I had done very well on home soil. I realised only after the trip that my rifle was faulty and needed to be fixed; after which I went back to shooting good scores (599/600) and started feeling confident again.
There were times when I felt that I didn't belong, but as my confidence grew, I began to know everyone and now feel very much at home on any and every range in the world.
Sometimes I have to pinch myself because of the places I've been to, and the amount of times I travel overseas. Happy days!
I have competed at two Paralympic Games – Beijing 2008 (placed fifth in R4 (mixed 10m air rifle standing SH2) and sixth in R5 (mixed 10m rifle prone SH2)) and London 2012 (placed sixth in R4).
'Come and try shooting days' are a great way to meet new people and help them get involved in shooting (the sport that saved my life). These talent search identification days are organised all over Australia, so when I get a chance, I go along and help out. It was during one of these days a few years ago when I met and helped Luke Cain (current Australian team member). Luke had already done some shooting before his accident and didn't really need much help.
This sport has taken me, just a boy from Wangaratta (a small country town in Victoria, Australia), all over the world. After doing four trips overseas in 2013 I'm now preparing for my fifth international competition (Oceania Continental Shooting Championship), the last for the year.
Jason Maroney will be aiming to qualify for the 2014 IPC Shooting World Championships in Suhl, Germany, from 17-26 July. Around 300 shooters from more than 50 countries are expected to compete. Follow updates on IPC Shooting's Twitter and Facebook pages.