Chuck Aoki: Paralympians have duty to inspire kids
20.11.2013
The American wheelchair rugby player believes sponsors need to get behind Paralympians to help them inspire the next generation.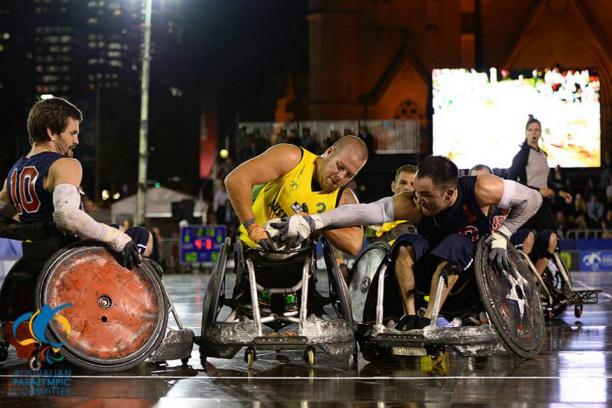 The USA's Chuck Aoki reaches in for the ball against Australia's Ryley Batt at the 2013 Wheelchair Rugby Tri-Nations Tournament in Sydney, Australia.
© • Sport the library / Jeff Crow
By Chuck Aoki
Television deals have been announced. Excitement is growing. It's time for kids with disabilities to have sports heroes who are just like them.
I've written in the past about the words "inspirational" and "inspire."
As you may recall, I was in favour of changing the connotations of these words, and that we should embrace our inspirational qualities, and use it to our advantage.
But I forgot one group that all Paralympic athletes should strive to inspire – future Paralympians.
Kids with disabilities don't all have role models in sports they can look up to on a national level.
Young wheelchair basketball players still want to be like Lebron James or Kobe Bryant, not Pat Anderson.
So, how do we change that?
First, as Paralympians, it is our duty to do as much outreach and giving back to kids as we can. Even if kids can't see us on TV like their other sports heroes (at least not yet in some countries), having us right there in person to teach them is even better.
I know we're all busy. But at one point, some busy person took an interest all of us who are Paralympians, and took the time to help us, coach us, guide us, lead us, and motivate us to be the best we can be.
Now, it's our turn to be that person.
The second thing that needs to happen is to put Paralympic stars into the national media. It may happen in other countries, but it's still not quite there yet in the Americas region.
Now is the time.
Television deals have been announced. Excitement is growing. It's time for kids with disabilities to have sports heroes who are just like them.
The incredible sponsors of the Paralympic Games have done a great job so far. And with just a little more work, we can inspire countless new Paralympians here in the Americas region and across the world.
Imagine this. That girl with spina bifida who feels she's all alone and there's no one like her?
She can cheer on her hero Tatyana McFadden at Rio 2016 as she wins another gold medal.
The boy who was born with one leg?
He can dream of being the next Richard Browne or Alan Fonteles Oliveira, and vision himself breaking their records.
And that young boy with a rare genetic condition? Maybe, just maybe, he'll even want to be the next Chuck Aoki.
OK, that's enough self-serving for one blog.
But my point is, we have numerous opportunities in the lead-up to Sochi 2014 and Rio 2016 to create true superstars of Paralympic sport.
But we can't do it alone.
So, this is my call to all Paralympic sponsors. Help create these stars. Give kids heroes to look up to and dream of becoming.
And, as I said in my last post, change Paralympic sport forever.
How will you help turn Paralympians into superstars? Feel free to share your thoughts and ideas with me on Facebook and Twitter.