Anjali Forber-Pratt: Athletes can make voices heard at VISTA
29.11.2012
American Paralympic wheelchair racer Anjali Forber-Pratt shares why it's vital that athletes are represented at the IPC's sports science conference.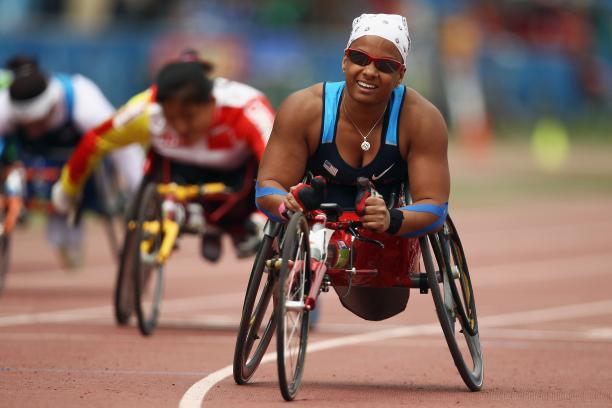 Anjali Forber Pratt winning the Women's 200m T53 Final during the 2011 IPC Athletics World Championships in Christchurch.
© • Getty Images
Athletes should always have a voice on matters pertaining to decisions of the IPC and vested parties in the Paralympic Movement that we are all a part of.
One of my proudest accomplishments and memories was earning a spot to represent my country at the Paralympic Games.
As a young kid, it was something I always aspired to and dreamed of.
The memories I have from both the 2008 and 2012 Paralympic Games will be with me for a lifetime.
It doesn't matter what is going on in the world in the news or who is angry or hostile to whom, at the Games it's all temporarily put on hold.
I think there is always something about witnessing it that gives me hope for the human race.
I see it more in and around the Athlete's Village because there, we all live and eat together.
The truth is, the Games are not just about hype every two years. It takes years of training and dedication on the part of the athletes, years of learning and instructing on the part of the coaches, years of research and experimenting on the part of sport scientists and organisation on the part of the administrators. It is no small feat to bring everything together for the second largest sporting event in the world.
As an athlete, I was curious about the inner workings of the International Paralympic Committee (IPC). I wondered who those sport scientists were who provide insight and valuable information about ways to advance the Paralympic Movement.
I wanted to see and meet folks for myself who were behind the scenes in this incredible movement I became a part of.
These are some of the reasons why I chose to attend the VISTA Conference in 2011.
Athletes always want to have a voice.
Athletes should always have a voice on matters pertaining to decisions of the IPC and vested parties in the Paralympic Movement that we are all a part of.
When I arrived at our headquarters in Bonn, Germany, I was astounded that I was the only current athlete in attendance at VISTA.
I was pleased to see a few familiar faces of former athletes, but it begged the question of why?
Why is it that decision-makers, researchers, coaches, program administrators are meeting, discussing, brainstorming and helping to move the Paralympic Movement to new heights and there is little to no input from the athletes?
I encourage more athletes to be involved, certainly. But, I also encourage a blend of all the people who contribute to making the Games happen – coaches, athletes, program coordinators, funders and researchers.
This interdisciplinary approach will only yield much greater things in the years to come.
The Paralympic Movement is exhilarating to be a part of. Everybody contributes in their own ways to grow from a small village to a city.
I sincerely hope that you will consider contributing, attending and collaborating as part of next year's VISTA Conference in May.