ROWING

Birgit Skarstein
10 February 1989
LATEST TRIUMPHS:

2018, 2017 World Championships – Gold

Rio 2016 Paralympics – Fourth

2015 World Championships – Bronze

2014 World Championships – Gold

2013 World Championships – Silver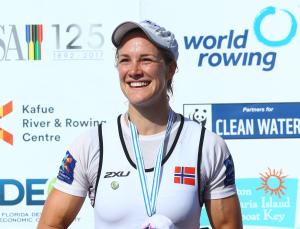 When Birgit Skarstein is not training for cross-country skiing, she is rowing.
The dual-sport machine competed at the PyeongChang 2018 Paralympic Winter Games, and now the 2018 rowing world champion has turned her focus to the Summer Paralympics in 2020.
She just missed the podium at the Rio 2016 Games, but that made the Norwegian hungrier for gold. Despite the rowing distance doubling to 2,000m after Rio, Skarstein adjusted quickly.
She won the World Cup in Poznan, Poland, the following year, which was one of the first tests for rowers over the new distance. Skarstein then captured back-to-back World Championships golds last September at Plovdiv, Bulgaria, in the PR1 women's single sculls (PR1Wx).
Skarstein injured her left leg while jumping into a lake in 2010. During treatment, she received an epidural injection in her back that accidentally injured the spinal cord, paralysing her from the waist down.
She picked up rowing in 2012 and competed in her first major regatta at the 2013 World Cup in Varese, Italy.
Skarstein studied political science at the University of Oslo and is a member of the International Paralympic Committee's Athletes' Council.