PARA SNOWBOARD

Bibian Mentel-Spee
29 September 1972 Utrecht, Netherlands
LATEST TRIUMPHS:

PyeongChang 2018 Paralympic Winter Games – Gold: banked slalom and snowboard-cross SB-LL2

2017 World Para Snowboard Championships: Gold - Snowboard-cross and banked slalom

2014-2015, 2015-16 and 2016-17 IPC Para Snowboard World Cup: Overall winner - women's SB-LL2

2015 IPC Para Snowboard World Championships: Gold - Snowboard-cross and banked slalom

Sochi 2014 Paralympic Winter Games: Gold - Snowboard-cross
Find out about the full career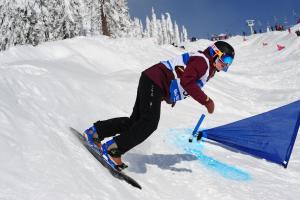 Bibian Mentel-Spee had been setting the standard for her sport since 2002, and no woman was able to stop her winning ways.
Mentel-Spee called an end to her glittering career after winning double gold at the PyeongChang 2018 Paralympic Winter Games. It seemed unlikely that she would compete after undergoing two major surgeries and cancer treatment in the lead-up to PyeongChang 2018. But that made her victories even more special.
Mente-Spee retained her titles at the 2017 World Para Snowboard World Championships in Big White, Canada, in another stunning season, although she had to settle for third place in the World Cup banked slalom rankings after being beaten by compatriot Lisa Bunschoten and Australia's Joany Badenhorst.
Mentel-Spee was a six-time Dutch champion in half-pipe and snowboard-cross events and on her way to qualifying for the Salt Lake City 2002 Winter Olympic Games before she lost her lower right leg to cancer. Four months after her operation, she was back riding and within the year she was again a Dutch national champion.
Mentel-Spee is a multiple world champion and sent a firm message of intent to her rivals ahead of Sochi 2014 when she won the women's race at the Test Event in March 2013, with a time that would have earned her a silver medal in the men's race.
She then swept all of the 2013-14 and 2014-15 World Cup events, taking home the titles in all of them. This included historic first wins in the new discipline of banked slalom and the new head-to-head format for snowboard-cross in 2014-15, to add to the first Paralympic gold she won at Sochi 2014.
The Dutchwoman continued her winning streak at the 2015 IPC Para Snowboard World Championships in La Molina, Spain, taking double gold, before adding another World Cup title in the snowboard-cross in 2015-16.
Mentel-Spee holds a Masters degree in sports management and coaches many of the athletes on her national team. She started her own foundation, the Mentelity Foundation, which focuses on motivating, activating and facilitating children with impairments through board sports (wakeboarding, snowboarding and skateboarding).
Follow us on Facebook
Follow us on Twitter