PARA NORDIC SKIING

Andrea Eskau
21 March 1971 Apolda, Germany
LATEST TRIUMPHS:

PyeongChang 2018 Paralympic Winter Games – Gold: biathlon middle distance and long distance; Silver: cross-country sprint, middle distance and long distance; Bronze: cross-country mixed relay

2017 World Para Nordic Skiing Championships - Silver: sprint freestyle and middle distance freestyle cross-country; Bronze: long distance classic cross-country and middle distance biathlon

2015 IPC Nordic Skiing World Championships - Gold: sprint, middle and long distance cross-country; Bronze: sprint biathlon

Sochi 2014 Paralympic Winter Games - Gold: sprint biathlon and middle distance cross-country

2011 biathlon and cross-country skiing World Championships - Gold: individual biathlon; sprint cross-country; Bronze: sprint biathlon 2.4km pursuit and long distance cross-country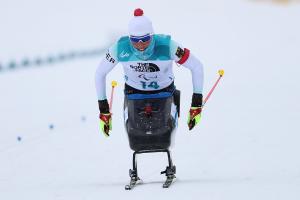 Andrea Eskau has an incredible track record across summer and winter sports. She is part of a select group of athletes who have won both Summer and Winter Paralympic titles.
On the snow, she recently won two golds, three silvers and one bronze across biathlon and cross-country events at the PyeongChang 2018 Paralympic Winter Games.
Two years before, the German had won gold in the women's road race H5 at the Rio 2016 Paralympic Games.
Even though Eskau is facing a charge from up-and-coming skiers and cyclists, she still manages to continue adding medals to her trophy cabinet.
At the 2017 World Para Nordic Skiing Championships, she also landed on the podium multiple times, but it was Oksana Masters who stole the show with her first world titles.
After a cycling accident in 1998 that resulted in spinal injuries, Eskau became involved in Para sports as part of her rehabilitation. She began with wheelchair basketball, started competing in cross-country and biathlon in 2009, and also began wheelchair and handcycle racing.
As well as working as a psychologist, she has also served as the director of the Department of Sports for the Impaired at the Federal Institute of Sport Science in Cologne, Germany.